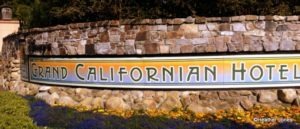 Disneyland
offers 3 On-Site Hotel choices. The most luxurious and by far the priciest of the 3 is the Grand Californian Hotel and Spa. I provide a highlight of my stay at the Grand Californian Hotel and spa for you. I hope you learn more about this amazing resort and consider adding it onto your Summer
Disneyland Vacation
Plans.
I've had the privilege of staying in Grand Californian a few times. We splurged and once stayed in a Club-Level Room. I had never stayed in a concierge style level room before (or after). First we didn't check in at the same place, we were met and escorted to the floor to check in. Seems silly that this was a highlight, but it just was a great experience. You truly feel that you are a VIP… If only every trip I took made me feel this great! I suppose thats just one of the many reason for the extra cost.
Some of the amenities of the Club-Level:
Priority check-in
Breakfast bar
Sodas
Fresh fruit
Tea Time
Evening wine/cheese reception
Nighttime Desserts
Firework viewing
Computer and printer access
Books, games and crafts
Songs & Tales from the Hearth
One of the greatest times for my son was bedtime story time. He got into his jammies, grabbed a pillow and we headed down to the Craftsman's Club. Once we arrived we found fresh baked cookies, milk and other refreshments. He grabbed a warm chocolate chip cookie and a glass of milk, plopped down on the floor and waited with the other young visitors for a cast member to read them a good night story. It was a truly magical for all of us.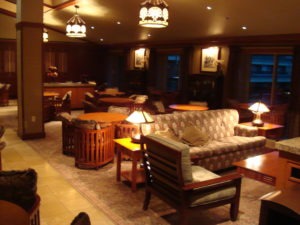 Additionally the Craftsman's Club lounge had a balcony where we were able to watch the fireworks from Disneyland. They even piped the music in! Again, the level of detail was extraordinary.
There are so many more amenities to the Grand Californian beyond the Club-Level Rooms. Every Guest has access to the 3 pools, 4 restaurants, the Fireplace stories and songs. You also get a special entrance into California Adventure. Just head to the back of the hotel and through your own gate into the park. Check out the Monorail Slide at the big pool!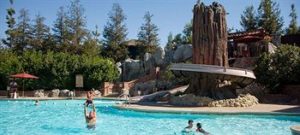 Sometimes those friends even lend a hand:
That's my son, who was 3 at the time enjoying his breakfast with some help from Chef Mickey! (Not taken at StoryTeller's Cafe) I love this picture. Such a great moment for all of us. In addition to StoryTeller's Cafe, you could chose to drop your kids off at Pinocchio's Workshop and then head over to Napa Rose for a romantic dinner for two. If you just want a quick bite stop by Hearthstone Lounge or Whitewater Snacks.