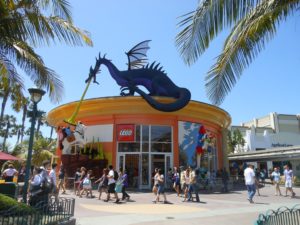 Plenty of first time visitors to Disneyland are under the impression that one or two days is more than enough at Disneyland.  Wrong! There are plenty of Disneyland Activities for keeping busy!
Two Theme Parks – Obviously, there's Disneyland and California Adventure parks to play at. I usually recommend at least one day for each park, plus at leasts a 3rd day so you can hit whatever you missed or loved the most.
Jedi Training Academy – Take the time to find out about joining in the Jedi Training Academy. You're little rebel fighters will thank you! Have your kids wear something flashy, Star Wars gear or even hold up a sign. This will increase the chances of them being selected. Once selected your young rebel fighter(s) will get to learn the way of the Jedi!
Mark Twain Steamboat – Have your little ones ask the Captain if they can steer. They may even get a cool souvenir certificate. Perhaps this will lead to a Pirates Life for them.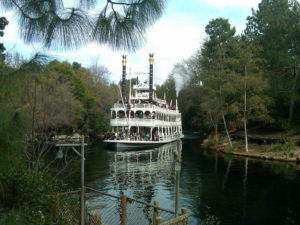 Ride the Train – Walt Disney loved trains and he has shared his love with all of us. Take time to ride the train around all of Disneyland. You will see areas that are not accessible anywhere else, and you will never find views of the lands like these.
Take a trip on the Monorail – Jump on the Monorail in Downtown Disney and head out to Tomorowland. If you just want to relax and take some time off your feet, get on at Tomorrowland and ride it till it returns to Tomorrowland.
Downtown Disney – I love Downtown Disney, first it has my favorite non-theme park restaurant, Ralph Brennan's Jazz Kitchen. Come by and have the jambalaya, then stay for the beignets! There's so many shops and clubs to check out. You could spend hours playing with Darth Vader at the Lego Store alone. Not to mention, people watching in Downtown Disney is a relaxing fun event.
Disneyland Resort Hotels – Even if you're not staying in one of the resort hotels, you can still take a peek inside the resorts. Head over to the Grand Californian Resort and Spa to chill at the outdoor fire pit. You can head inside and enjoy a meal at Storyteller's Cafe, shop in the gift shops or cruise around and look for Hidden Mickeys.
Away from Parks – You are just south of Los Angeles, head out to Santa Monica for a day and spend some time at the beach. Head south to San Diego and visit the world famous zoo. Enjoy some time at SeaWorld with Shamu and friends. The area attractions are many and can be included in most Disneyland packages!
Written by Daniel Mullarkey, DisneyDaniel — Daniel is a self-proclaimed Disney Geek, Disney Vacation Planner and a Disney Specialist! When he's not adding to the plethora of Disney trivia in his head, you can find DisneyDaniel on his Facebook Page and/or follow him on Twitter!  Book your next vacation with Daniel at 425-420-8988 ordaniel@destinationsinflorida.com.