Are you looking for a fun family activity at home? We have two of them for you!
One of our favorites is Disney on Ice. We love that you can celebrate Disney and see the Disney characters, right from your hometown (or near your hometown).
Even though we live right down the road from Disney World and Disney Cruise Line, we always find time to go see Disney on Ice. We love seeing our favorite Disney characters glide across the ice, especially Mickey! We are excited to see Disney on Ice is back. Check out local showtimes near you.
Our second fun family activity is just a print away. How about a FREE Disney inspired BINGO game?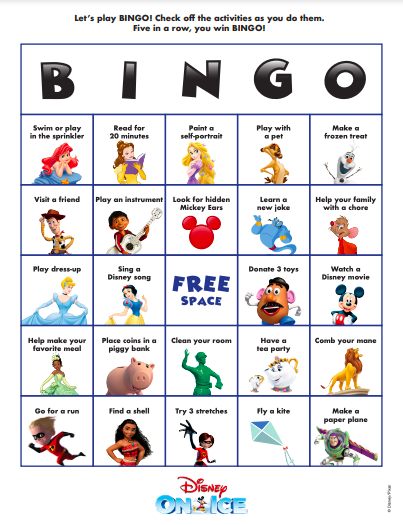 Click here to download and print this fun activity for your whole family to enjoy at home. How do you like to celebrate Disney at home?