Orlando Dinner Shows
If you speak with anyone heading to Orlando, what are the first things you will likely hear?  Surely, Mickey and Minnie Mouse will be at the top of the conversation.  The magic of Walt Disney and Mickey, sunshine, vacation, theme parks, entertainment and always…what are we going to eat?  Food and fine dining is often a treat for families on vacation, and it is well known that Walt Disney World has some of the greatest opportunities for guests to dine while immersed in experiences, not just meals.  For families, there is one type of meal that is sure to give every family member special memories –dinner shows!  Dinner shows, both on and off Walt Disney World property, are sure to add the perfect memory to your vacation.
Hoop Dee Doo Musical Revue
Location:  Pioneer Hall, Fort Wilderness Campground & Resort, Walt Disney World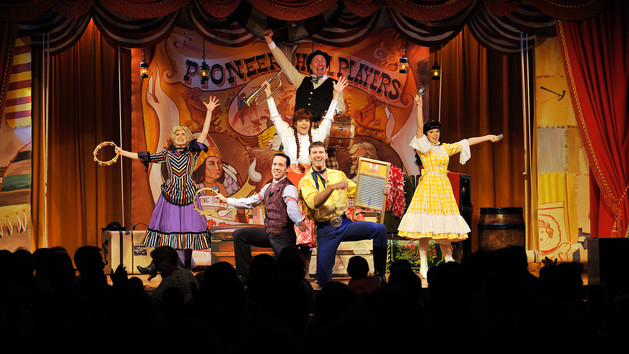 Enjoy a rustic, southern, rootin' tootin' great family experience at the Hoop Dee Doo!  The Hoop Dee Doo Revue has the distinction of being the longest running dinner show in America.  While the family style meal of ribs, fried chicken, mashed potatoes, cornbread , strawberry shortcake with unlimited draft beer, wine and sangria and soft drinks are a draw in itself, the meal is secondary to the show.  Presented by the Pioneer Hall Players, the show is truly good old fashioned family fun.  Interactive with the audience, excellent voices, and hilarity galore give the audience much more than your average dinner experience.  Many people return to the Hoop Dee Doo every time they visit Disney World, because while the main parts of the show stay the same, the audience participation gives the entertainers the chance to show off their comedy chops. Three categories of seating doesn't mean that you can't be part of the show either.  The Pioneer Hall Players make their rounds through all the audience saying hello or asking for volunteers. With three showtimes daily (
4:00pm
,
6:15pm
8:30pm
), it gives many opportunities for families to fit this exciting and delicious experience into their vacation plans.
Spirit of Aloha Dinner Show
Location: Luau Cove, Polynesian Village Resort, Walt Disney World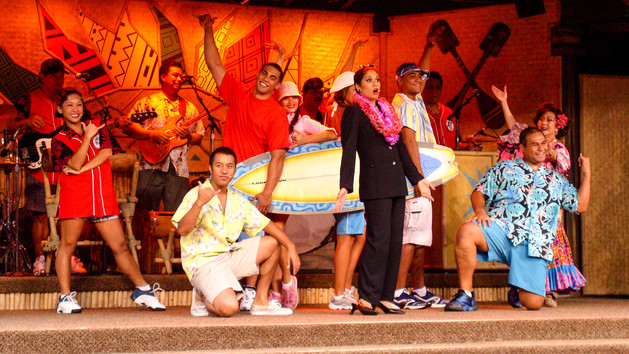 Aloha!  Enjoy a traditional Polynesian evening filled with traditional luau entertainment and food, the Spirit of Aloha is a chance for Disney World guests to once again, enjoy a dining experience that is unique and they might not be able to get in their home town.  This entertaining luau is complete with a story, fire-knife performers and hula dancers.  Guests will enjoy delicious tropical mixed greens with mango poppyseed dressing, pineapple coconut bread, BBQ pork ribs, Lanoi roasted chicken, fresh seasonal veggies and Kilauea Volcano Delight Dessert. In addition to soft drinks, lemonade, coffee and other non-alcoholic beverages, Guests 21 years of age and up can enjoy beer and wine with their meals. For an added charge, indulge in a fruity cocktail—like the tropical rum punch served in a hand-carved coconut keepsake.
One thing to consider with the Spirit of Aloha is the weather.  While the Hoop Dee Doo is set inside, the Spirit of Aloha is set outside with covered seating.  So, during very hot months, the later show might be the most comfortable.  If the weather forecast is 50 degrees or below, the show will be cancelled (your payment will be refunded or you can reschedule).  There are two showtimes available daily at
5:15pm and 8:15pm
.
Wantilan Luau
Location: Loews Royal Pacific Resort, Universal Studios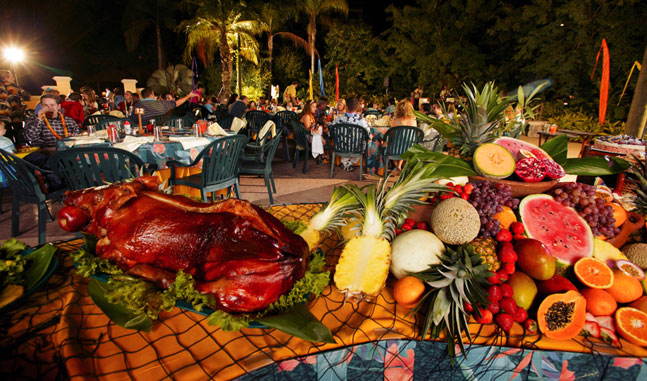 Don't think that you are only able to experience a luau at one location in Orlando!  At Loews Royal Pacific, a Universal Orlando Resort you will also be able to savor the exotic fare of the South Pacific and enjoy a traditional Hawaiian dinner show.  Just like at the Spirit of Aloha, guests will enjoy an evening of authentic Polynesian food and entertainment, which is held weekly on Saturday nights.  The Wantilan luau features an all-you-can-eat buffet of Polynesian delicacies, non-alcoholic beverages, wine, beer, and Mai Tais as well as live Hawaiian music and traditional hula dancing.  Fire and hula dancer entertain the audience while also teaching some lucky dinners the hula! Dinner shows are weekly, Saturday nights at
6:00pm
Medieval Times Dinner Show & Tournament
Location:  Kissimmee, Florida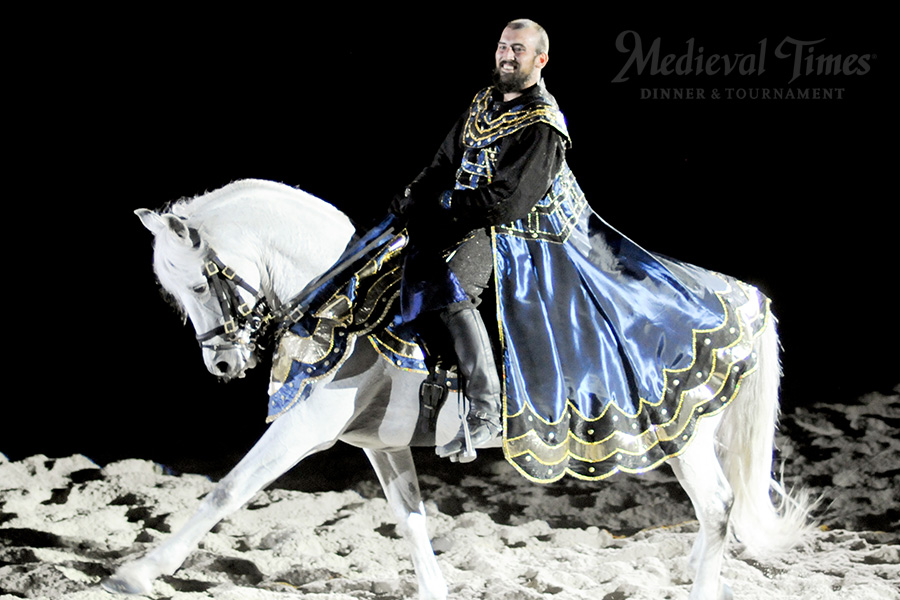 Depending on where you live, you very well might have a Medieval Times near your home town, as there are eight locations spread out over America.  Your visit to Orlando is a great reason to experience this great family dining experience while vacationing.  As in keeping with the "times" there are no utensils and guests eat everything with their hands.  There is a set menu including roasted spare ribs, BBQ chicken, herb roasted potato and castle bread.  But Medieval Times has never really been known for their taste bud satisfying phenomenal food.  Some children might not love everything on the menu, but the entertainment and show more than makes up for it.  The restaurant is split into teams, and guests can cheer on their knights as they compete in an epic tournament complete with horse tricks, jousting and sword fighting.  Open most days of the week, you can celebrate birthdays and other group events at this location.
For more information or to purchase tickets:  Contact Erin Johnson at Destinations in Florida at 214-697-7732 or at erin@destinationsinflorida.com.