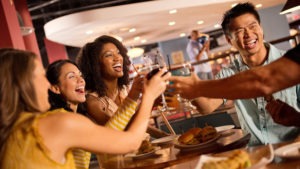 Splitsville is a place where you can enjoy retro-style bowling and tasty food when visiting the West Side of Downtown Disney.  While Splitsville Luxury Lanes is part of a chain, the Orlando location has special Disney touches throughout, including some Disney-themed bowling balls and a few "Hidden Mickeys"!
In addition to bowling, Splitsville offers an impressive menu filled with classic favorites such as specialty pizza and burgers but also features many items that you won't find at a "normal" bowling alley.  Celebrity chef, Tim Cushman introduces items like Steak Alfredo, fresh rolled sushi and a Spicy Veggie Bowl along with tempting salads and scrumptious desserts.  The menu is huge! Food and drink service is available in the dining room, outside on the patio or right at your lane when you make a separate bowling reservation.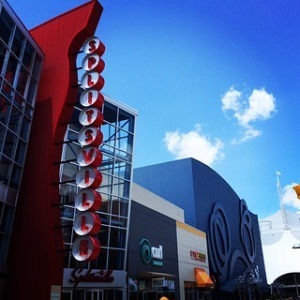 Splitsville is a colossal complex with 50,000 square feet of entertainment, decorated with dazzling lights and vintage bowling motifs.  There are 30 bowling lanes, five bars with big screen televisions as well as billiard tables and a merchandise shop.  You will find plenty of exciting entertainment with a DJ spinning tunes or a live band. It's the perfect way to spend a rainy afternoon, a late night or spare time away from the theme parks.  Early-bird specials are often offered on bowling.  Splitsville has packages available for occasions like birthdays, bachelor parties and other special events. To make bowling lane reservations for your party, visit the Splitsville website or call (407) 938-PINS.  You do not have to bowl in order to dine at Splitsville. Advance dining reservations through Disney are recommended but not always necessary.
Roll in and rock out!  Come for the food but stay for some entertainment and bowling!  Be sure to include a trip to Splittsville during your next Walt Disney World vacation.
Written by Sheri Morris, "Main Street Morris"   Sheri is a proud grandmother with a keen eye for detail. She specializes in Disney Travel for adults and RV travel.  Book your next vacation with Sheri at 804 405 5005 or at sheri@destinationsinflorida.com.