The Electrical Water Pageant is a dazzling display of floating lights that travel across the Seven Seas Lagoon and Bay Lake, just outside of Disney's Magic Kingdom Theme Park. It has long been a favorite of vacationers since 1971 and was the predecessor to the Main Street Electrical Parade.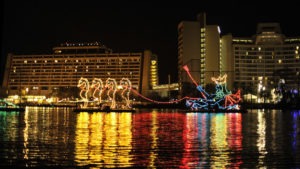 The parade floats and music have changed a bit throughout the years but the overall theme remains the same. It is a short parade – less than 10 minutes long, featuring sparkling, creative sea creatures that transform into patriotic themed twinkling lights on 40-ft. barges. The current floats include:
Four Sea Serpents
Whale
Octopus
Three Jumping Dolphins
Brachiosaurus
Turtle
Crocodile
Four Seahorses
Neptune
Electronic musical selection from The Little Mermaid and Peter Pan are played as the water parade progresses. As the barges pass, they transform into the patriotic theme including stars, stripes and American flags as the music changes to traditional American patriotic songs.
Some of the best places to view the Electrical Water Pageant include:
When Wishes Nighttime Spectacular takes place at 10:00 PM, the Electrical Water Pageant will begin shortly following its conclusion
The Electrical Water Pageant may be cancelled in inclement weather. Be sure to be on the lookout for this little extra dose of Disney Magic during your next Disney World vacation!
Written by Sheri Morris, "Main Street Morris"   Sheri is a proud grandmother with a keen eye for detail. She specializes in Disney Travel for adults and RV travel.  Book your next vacation with Sheri at 804 405 5005 or at sheri@destinationsinflorida.com.