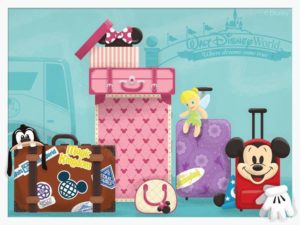 Planning a Disney vacation can be a daunting task! With advance planning and these tips, you can have the best Disney vacation ever!
Decide when to go – A little online research or the help of a Travel Agent can help you choose the best time of year to visit. Of course, your vacation schedule may depend on work or school but pick a less-crowded season if at all possible. Plan to stay as long as your budget will allow.
Decide where to stay – The benefits of staying at a Disney Resort are endless! By choosing a Deluxe Resort, you'll be closer to the parks and enjoy more amenities. If you select a Moderate or Value Resort, you may be able to stay longer and still be able to enjoy all the perks of staying onsite. By building some 'down time' into the trip, you can enjoy the pool and other amenities of your resort.
Learn about the parks before you leave home – Make yourself familiar with the layout of the park by ordering free customized maps from Disney's website.  Or, invest in a current travel guide from the bookstore. You'll save valuable park time by knowing in advance where you're going and how to get there.
Start your packing list early – While you don't need to take the 'kitchen sink', there are things you will need to carry along. By making a list, you will be certain to have important things like your phone charger, sunscreen and ponchos when you need them.  Trust me, you'll need them!
Condition your body – A complaint I often hear from guests is how much their feet hurt from so much walking.  Start a walking regimen before leaving home and your body will thank you.  Be sure to take your most comfortable shoes along – don't buy new ones for the occasion!
Have realistic expectations – While it's important to make advance reservations for dining and attractions, allow enough flexibility for spur of the moment entertainment, meltdowns and bathroom breaks. Realize that you just can't do it all… this time!
Written by Sheri Morris, "Main Street Morris"   Sheri is a proud grandmother with a keen eye for detail. She specializes in Disney Travel for adults and RV travel.  Book your next vacation with Sheri at 804 405 5005 or at sheri@destinationsinflorida.com.