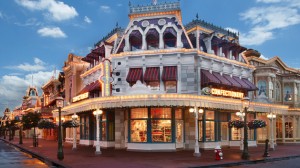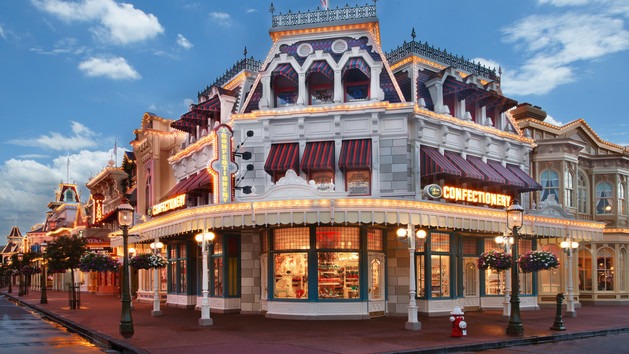 A walk down Main Street USA at Disney's Magic Kingdom Theme Park would not be complete without a stop at the Main Street Confectionery.  You will find it near the entrance just past Town Square on the right hand corner. The sweet aroma will draw you inside for some magical Disney treats!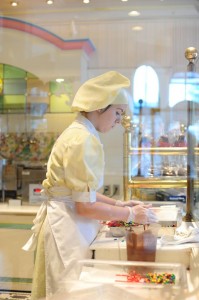 Here, you will find a huge variety of every type of sweetness imaginable!
Boxed Candy
Bagged Candy
Jelly Bean Selections
Boxed Cookies
Fresh Baked Goods and Candies
Giant Crispy Treats
Goofy's Sour Candy Station
Cold Drinks
And much more!
Disney Cast Members prepare treats in an open kitchen where you can watch as they create and decorate goodies right before your eyes!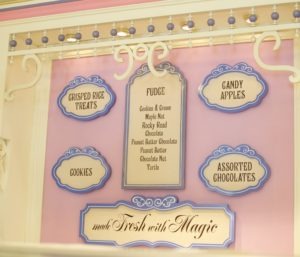 The old-fashioned candy shop is crisp, clean, bright and colorful with a vast array of pre-packaged goodies as well as an ordering station at the rear of the store with freshly made items. Be sure to look overhead at the conveyor system that moves little baskets of candy – it's so cute! You will also find adorable limited-time seasonal goodies. Main Street Confectionery is filled with all types of sugary goodness — giant cookies, peanut brittle, cotton candy, fudge, specialty candy apples, cupcakes and more…so much more!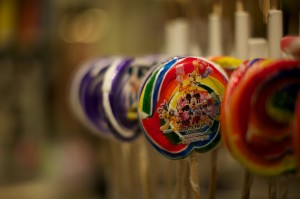 You can get a giant lollipop, bulk candy including Jelly Belly jelly beans, rock candy, chocolate candy and even a bit of sugar-free candy.  Be sure to try one of the chocolate dipped strawberries. The choices of fun Disney-themed confections are endless! On occasion, free samples are offered.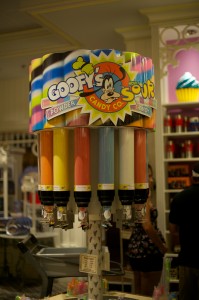 Be sure and make time to satisfy your sweet tooth and make some sweet memories at the Main Street Confectionery during your next visit to Disney's Magic Kingdom.
Written by Sheri Morris, "Main Street Morris"   Sheri is proud grandmother with a keen eye for detail. She specializes in Disney Travel for adults and RV travel.  Book your next vacation with Sheri at 804 405 5005 or at sheri@destinationsinflorida.com.