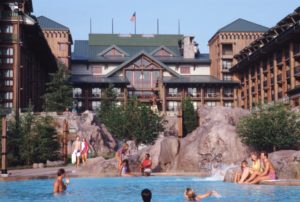 If you are considering a Walt Disney World vacation for your family, you will find many options to consider.  With choices ranging from Value to Deluxe Villa accommodations, it can be a challenge!  Today, we will look at the four main categories of Disney Resort Hotels.
Disney Value Resorts – These resorts feature larger-than-life themes that will delight children of all ages. Your family can enjoy swimming pools, food courts with tons of choices for meals, pizza delivery and bright, colorful icons that decorate the landscape.
Disney Moderate Resorts – You can experience exotically themed locales. Full service restaurants, themed swimming pools with slides and tons of recreational opportunities abound.
Disney Deluxe Resorts – These resorts are the best of the best that Disney offers. Guests receive extraordinary service in incredible settings with character dining, full service restaurants, highly themed pools and spas. The close proximity to the parks is invaluable to guests who want the most from their Disney vacations.
Disney Deluxe Villa Resorts – With the comforts of home, these resorts are perfect for the family desiring more space with the charm and exceptional service with a Disney touch. All of the amenities associated with a Deluxe Resort are included with these.
As you can see, there are many different room types and amenities available. It would be beneficial to enlist the help of an expert Disney vacation planner (like me!) to help choose the resort that will best fit your needs. There's a Disney Resort to fit the budget and vacation desires of everyone!
Written by Sheri Morris, "Main Street Morris"   Sheri is proud grandmother with a keen eye for detail.  She specializes in Disney Travel for adults and RV travel.  Book your next vacation with Sheri at (804)405 5005 or at sheri@destinationsinflorida.com.