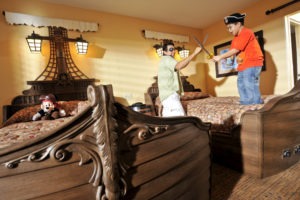 Disney's Caribbean Beach Resort has a lot to offer families that desire a serene and comfortable stay when visiting Walt Disney World.  The Pirate Rooms that were added to the resort in 2009 are a hidden treasure to delight any young boy!  They are located in the Trinidad South section of the resort.
True to Disney's reputation for attention to every detail, these uniquely themed rooms feature swashbuckling décor from stem to stern.  Kids will have so much fun sleeping and playing on the very cool pirate-ship beds! The design on the bedspreads have authentic looking treasure – gold coins and jewels.  Pirate rooms have carpet designed to look like wood planks with pegs. The refrigerator and bedside table are shaped like old barrels. Bureau drawers are made to look like crates and the table is decorated with a compass. You'll find buccaneer accessories throughout the bathroom too!   The shower curtain is decorated with pirate ships and a picture the Flying Dutchman is carved into the wall in the shower area.
The Pirate theme continues to the walls with artwork and a room dividing curtain showing scenes from the Pirates of the Caribbean attraction at the Magic Kingdom.
Take a trip to the Caribbean and add a little pirate fun!  The laid-back atmosphere of the Caribbean Beach Resort and the smile on your little boy's face may be just what you'll need to make this Disney World vacation the BEST vacation ever!
Written by Sheri Morris, "Main Street Morris" — Sheri is proud grandmother with a keen eye for detail. She specializes in Disney Travel for adults and RV travel.  Book your next vacation with Sheri at 804 405 5005 or at sheri@destinationsinflorida.com.