Little Mermaid fans rejoice!  There is a fun indoor attraction in New Fantasyland at the Magic Kingdom at Walt Disney World just for you!  Under the Sea ~ Journey of the Little Mermaid is a slow moving ride and the perfect attraction for Ariel fans of all ages!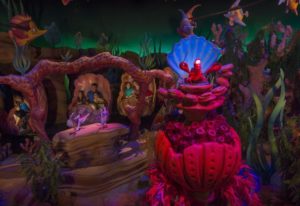 Prince Eric's Castle is the place to see Ariel and all her friends in Under the Sea ~ Journey of The Little Mermaid. You will enter through a rather dark cavern and climb aboard the cutest little colorful clamshell ever! See whozits and whatzits galore as you glide through scenes featuring classic songs from the popular animated feature film, The Little Mermaid.  Along the journey, you'll see all the well-loved characters from the film, including Ariel, Prince Eric, King Triton, Sebastian, Flounder and Ursula!  Little ones might be slightly intimidated by Ursula.  She's huge, at 7 ½ feet tall and 12 feet wide!
The scenes are filled with delightful music led by Sebastian. You'll watch the "newt play the flute and the carp play the harp"!  Be sure to look at all the "stuff" in Ariel's gadget-filled grotto because it's really neat!  At the grand finale of the ride Ariel and Prince Eric exchange romantic glances and the wedding is celebrated!
Afterwards, be sure to continue your journey "under the sea" with a nearby meet-and-greet with Ariel at Ariel's Grotto.  Be sure to take time to experience Under the Sea ~ Journey of the Little Mermaid during your next Disney World vacation!
Written by Sheri Morris, "Main Street Morris" — Sheri is proud grandmother with a keen eye for detail. She specializes in Disney Travel for adults and RV travel.  Book your next vacation with Sheri at 804 405 5005 or at sheri@destinationsinflorida.com.