Do you have children with fur? Hate the thought of leaving those fur babies at home, while you are on vacation?  If you just can't the thought of leaving Fido at home, here are some great tips for traveling with pets.
Traveling with Pets: Selecting Transportation
First off, it is important to pick the safest and most comfortable mode of travel for your pets. Dogs are usually the easiest to take with you. Cats can be more difficult. Not all pets are suitable for travel. So, really think it through if it is really a good thing to take your pet with you on your vacation. Sometimes it is in the best interest of your pet to board them or have a pet sitter take care of them while you are away.
Traveling With Pets by Car
The most convenient way to travel with your pets is by car. Here are some ways to make the road trip go smoothly.
Don't let your dog roam! The safest way for your dog to travel in the car is for your dog to be in a crate that is anchored. Cats should also travel in a secured carrier.

Keep the pets out of the front seat! Deployed airbags can be very dangerous for your pets.

Stop multiple times, so your pets can get some exercise and relief themselves. When you stop, make sure they have a good collar with a current id tag and a good leash. Never leave your pets in the car alone! Heat can be very hazardous to animals. 72 degrees outside equals 116 degrees in an enclosed car. If possible have a friend or relative travel with you to help with your pet.
Traveling with Pets by Plane
Before booking a flight for Fluffy, please research all options. Flying can be very risky for your pet.
Air travel can be very harmful for pets that have a smashed nose or are "brachycephalic." If flying is the only option for you and your pet, find out if they can fly with you in the cabin.
Most airlines will allow pets in the cabin if they can fit under the seat in front of you. Most airlines also charge a fee for Fido or Fluffy to fly with you. Call the airline ahead of time. There are limits on the number of pets allowed on a flight. And if it seems to much for you to handle, there are companies that help you book and transport your pets.
Keep in mind that you and your pet have to make it through security. So please make sure that you have a good leash and collar because your pet will have to be removed from the carrier to go through security. 
There are dangers for pets that have to fly in the cargo area. Excessively hot or cold temperatures, poor ventilation and rough handling are what your pet could experience flying in the cargo area.
Follow these tips if your pet must fly in the cargo area of a plane-
    Direct non stop flights

    Travel on the same flight as your pet

    Notify the flight attendant or captain that your pet is in the cargo area

    Fit your pet with a collar that will not get caught in the carrier door

    Don't feed your pet right before flying

    Try not to fly during busy times

    Carry a current photo of your pet

    Don't give your pet a tranquilizer

    Clip their nails so they don't get caught in the cage or crate

    Label your pet carrier with your name, final destination, address, phone

    As soon as you land, take your pet out of the carrier to make sure they are okay
Traveling with Pets by Cruise Ship
Pets are only welcomed on a few cruise lines and usually only on ocean crossing itineraries. The exception of course would be assistance dogs. Some cruise lines allow pets in your cabin buy most cruise line's require pets to be contained in a carrier. Call the cruise line directly to find what their policies are regarding traveling with your pet.
Traveling with Pets by Train
Amtrak allows pets on certain itineraries. Service animals are allowed on all Amtrak trains. Many train lines in Europe allow you to bring a pet on board but it is your responsibility to walk and feed them.
So if you can't stand leaving your fur babies at home while on vacation, please research the best ways for Fido or Fluffy to join you on vacation!
Traveling with Pets:  Where to Stay
Kennel or Pet Spa
Research where you are going. See if they have a pet kennel at the resort or a pet spa or day camp. Definitely call ahead to make sure they have availability. This allows some fun for your pet and they are not stuck in a hotel room all day.
Pet Friendly Hotels & Resorts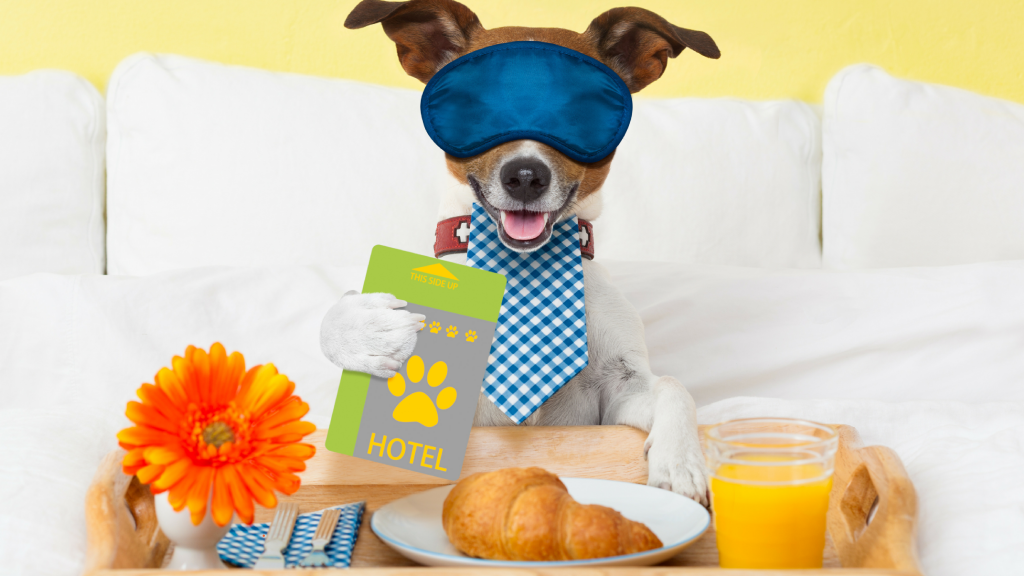 There are lots pet friendly hotels and resorts. Here are some hotels that are pet friendly:
LaQuinta

Extended Stay

Candlewood Suites

Comfort Inn

Holiday Inn

Residence Inn

Hyatt Place
Call ahead to double check that the hotel allows pets and see if there will be a pet fee. Don't let your pet roam in a hotel room. Place them in their carrier when you leave. You don't want the maid to accidentally let them out of the hotel room.
Traveling with pets can be a fun family experience. Be sure you do your research and be prepared for your pet and your family.
Written by Carla Stotts:  Carla lives in Lake Mary, Florida with her husband, son, one dog and three cats. Carla's love of Disney started when she went to Disney World for her honeymoon. That love of Disney tripled when she started taking her son to the most magical place in the world! She loved Disney so much, her and her family moved from the Midwest to Florida to be closer to all the magic. Living close to Orlando allows Carla to be there for her travel clients.  Carla is a graduate of Disney College of Knowledge and has countless trips to Disney World under her belt. Carla has been an extensive traveler all her life! Hawaii, Bahamas, Caribbean, Europe and Asia! Let her help make some of your travel dreams come true! carla@destinationstoexplore.com 417-848-8369