Celebrate the holiday season with the characters, legends and lore from around the globe. Delight in wondrous tales and customs while experiencing the traditions of Walt Disney World® Resort. The signature events include a breathtaking Candlelight Processional and a special holiday-themed finale to the dazzling IllumiNations: Reflections of Earth.
Event Dates: November 25 – December 30, 2016
Event Tickets: Admission to Epcot® required.
Entertainment Highlights (subject to change without notice):
Ongoing Holiday celebrations throughout the World Showcase featuring festive food, fun and entertainment from a variety of exciting cultures worldwide include:
Candlelight Processional – One of the most beloved holiday traditions at Epcot – a joyous retelling of the Christmas story by a celebrity narrator accompanied by a 50-piece orchestra and a glorious mass choir. Celebrity narrators this year include some returning favorites like contemporary Christian music singer Steven Curtis Chapman, actors Whoopi Goldberg and Neil Patrick Harris and newcomers like legendary baseball player Cal Ripken, Jr.:*
2016 Dates
Narrator
Nov. 25 – Nov. 27
Nov. 28 – Dec. 1
Dec. 2 – Dec. 3
Dec. 4 – Dec. 6
Dec. 7 – Dec. 9
Dec. 10 – Dec. 12
Dec. 13 – Dec. 15
Dec. 16 – Dec. 18
Dec. 19 – Dec. 21
Dec. 22 – Dec. 24
Dec. 25 – Dec. 27
Dec. 28 – Dec. 30
Steven Curtis Chapman
Neil Patrick Harris
Whoopi Goldberg
Edward James Olmos
To Be Announced
Robby Benson
Meredith Vieira
Jim Caviezel
Joe Morton
Ming-Na Wen
Jodi Benson
Cal Ripken, Jr.
*Narrators and entertainment are subject to change without notice. Theme park admission is required. There is no 5:00 p.m. show on 12/4/16.
The processional is performed three times per night (5:00, 6:45 and 8:15 p.m.) during the holiday season at the American Gardens Theatre.
2016 Candlelight Processional Dining Packages – Now on Sale!
These packages, available on select nights, include a delicious meal and a guaranteed seat for one of the Candlelight Processional performances. Availability is limited.
This year, in addition to lunch and dinner packages, breakfast options are available at some favorite Epcot restaurants like Akershus Royal Banquet Hall and Garden Grill. Breakfast, lunch and dinner options are also available this year at Captain's Grille at Disney's Yacht Club Resort, with breakfast and dinner options being offered at Trattoria Al Forno at Disney's BoardWalk.
Candlelight Dining Packages for breakfast start at US $27 plus tax per person for adults and US $14 plus tax per person for children, ages 3-9. Candlelight Dining Packages for lunch and dinner start at US $47 plus tax per person for adults and US $20 plus tax per person for children, ages 3-9.
IllumiNations: Reflections of Earth: A spectacular light and sound show every night at 9:30 p.m. at the World Showcase Lagoon featuring a very special holiday finale, which includes the classic song "Let There Be Peace On Earth" and the voice of Walter Cronkite offering a special holiday message.
Holiday Storytellers: Listen to legendary holiday folklore from around the world as told at the World Showcase by the legends themselves, including France's Père Noël, Italy's La Befana and America's Santa Claus.
Epcot Holiday Merchandise: Stroll through the World Showcase and discover festive holiday gifts for the entire family! Visit Santa's Village in America Adventure or stop by France for a delicious gourmet treat. You may even catch a glass blower in Germany putting the finishing touches on a seasonal ornament!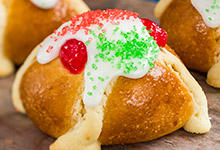 Seasonal Tastes Expand for Holidays Around the World at Epcot
One of the most delightful ways to experience Epcot is noshing your way around World Showcase, and now Holidays Around the World is adding more food and drink for the winter celebration November 25-December 30. Explore what the holidays taste like around the globe:
Feast of the Three Kings – Feast like a king with a selection of scrumptious foods and delicious drinks from the Caribbean at this holiday kiosk inspired by the story of the Magi. While you nibble, learn all there is to know about the celebration of Three Kings' Day, El Día De Los Reyes Magos!
Seasonal Southern Delights – Got a hankering for some southern home cookin'? Collared greens, cornbread, and more are being served up fresh and piled high at this holiday kiosk, celebrating the South at the most wonderful time of the year! Y'all better come hungry!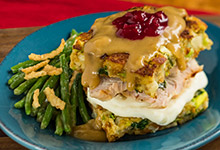 American Holiday Table – From tender roast turkey to tasty pork tenderloin, memories of grandma's kitchen will come flooding back when you visit this kiosk – a salute to the great flavors of the American holiday season. Everyone knows there's no place like home for the holidays!
Holiday Eats and Treats – From decadent desserts to savory snacks, and merry libations, you'll find yourself in full swing of the season at this festively-appointed holiday kiosk. A great place to enjoy the view, meet up with friends, or just take a moment to unwind.
Alpine Haus – Sample the cozy comfort foods and robust libations of the north at this Alpine-inspired holiday kiosk. As you snack, take a peek at our selection of beautifully decorated Christmas trees, and learn all about history's most elegant evergreens.
Mexico Holiday Market
Enjoy traditional dishes like spicy tacos and sweet tamales, along with more eclectic offerings like horchata margaritas at this kiosk from south of the border. Mariachi beats and seasonal eats are sure to put you in the right mood for a Feliz Navidad!