IllumiNations: Reflections of Earth
Behold the past, present and future of Earth at this stunning fireworks show that celebrates the spirit of humanity. Gather around the World Showcase Lagoon to witness the incredible history of our planet.
Part One: The Earth Is Born
Earth's fiery birth begins with flames and fireworks erupting from the lagoon. Beneath a swarm of heavenly explosions, red and golden lights blaze on the shimmering waters. As the volcanic effects subside, a glowing globe glides peacefully across the waters.
Part Two: The Triumph of Life
Our individual stories culminate in one adventurous tale. The illuminated surface of the globe reveals the history of humanity and the achievements of our time.
Part Three: Hope for the Future
Comets of light race into the sky, before the globe blossoms like a lotus flower, revealing a torch ablaze with our dreams. A chorus of voices rises as the entire lagoon dances with bursts of joyous white light.
Show Length:
Approximately 13 minutes
Viewing Location:
Around the World Showcase Lagoon. Guests are encouraged to locate a viewing location at least 30 minutes prior to show start.
Viewing Dates:
Nightly, Please check Daily Times Guide upon entry for start time.
FastPass+ Offered
---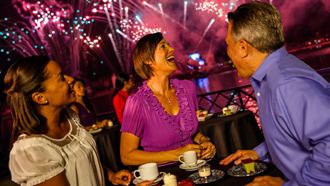 IllumiNations Sparkling Dessert Party
Savor international desserts and wines in an intimate, exclusive setting as spectacular fireworks light up the night. The menu will include the best sweets from several international pavilions, including tiramisu and Prosecco from Italy; Vanilla Pot de Creme from France; baklava from Morocco and much more.
When: Wednesdays, Fridays and Saturdays from 7:45-9:20 p.m.
Cost: $49 for adults and $29 for children. Epcot park admission is also required.