The 4 Disney Cruise Line ships—with their distinctive designs and decorative gold swirls across their bows—inspire awe wherever they pull into port. Mixing grand elegance with an element of fun, the Disney ships were created specifically with families in mind. Discover the enchanting delights of sailing to exotic destinations aboard ocean liners that have "something for everyone" built right in.
---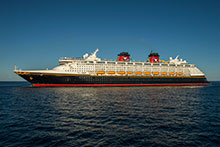 Disney Magic
Disney Magic is a cruise liner that blends classic beauty and grace with all the modern luxuries, technology and comforts that make cruising a pleasure. With its distinctive design and signature yellow trim across the stately bow, the Disney Magic is one of the most admired and recognizable ocean liners in the world making hundreds of trips to dozens of exotic international ports every year.
2,700 passengers
11 decks
Total length of 984 feet
Maximum width of 106 feet
Gross tonnage of 84,000
---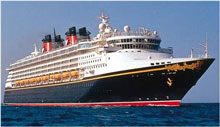 Disney Wonder
Paying homage to a time when ocean liners inspired awe and represented the best in artistry and architecture, this ship is distinguished for its sophisticated design and modern innovation. The interior reflects majesty and enigmatic beauty, with its swirling wave patterns, marble accents and touches of Venetian glass adding brilliance to the Art Nouveau décor.
2,700 passengers
11 decks
Total length of 984 feet
Maximum width of 106 feet
Gross tonnage of 84,000
---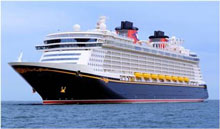 Disney Dream
Building on the classic style of the previous 2 ships, this valiant vessel is distinguished for its classic early 20th-century design and state-of-the-art technology. Designed to reflect the glamour of the golden age of 1930's cruising, elegance and sophistication mingle with Disney storytelling and whimsy. Lavish decorative murals merge with sparkling fixtures and furnishings in a radiant Art Deco ambiance.
4,000 passengers
14 decks
Total length of 1,115 feet
Maximum width of 125 feet
Gross tonnage of 130,000
---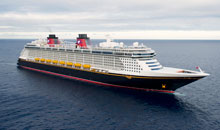 Disney Fantasy
The fourth addition to the fleet, this majestic cruise liner boasts an opulent Art Nouveau design and state-of-the-art facilities. This ship features the same attention to detail Disney is known for, while introducing new and immersive, one-of-a-kind venues and experiences for everyone in the family.
4,000 passengers
14 decks
Total length of 1,115 feet
Maximum width of 125 feet
Gross tonnage of 130,000