Deck parties are spectacular, open-air music and dance extravaganzas that happen on the upper open-air deck of the ship. Starring many of your favorite Disney Characters alongside Disney Cruise Cast Members, Deck Parties invite you and your family to join in the excitement and be a part of the show. Guests should check the Personal Navigator onboard for specific information. Please note, all entertainment is subject to change.
---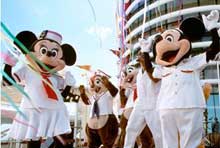 Sail-Away Celebration / Sailing Away
Ship: Disney Magic, Disney Wonder, Disney Dream, Disney Fantasy
On Embarkation Day, this fun-filled dance party extravaganza heralds the start of your Disney cruise vacation and stars Disney cruise Crew Members and Disney Characters. Begin your cruise with an exciting dance party featuring music and interactive dance numbers. Kick up your heels, clap your hands and party it up for an adventure you'll never forget. The show is a celebration of the fun aboard a Disney cruise, building to the exciting sounding of the ship's horn.
---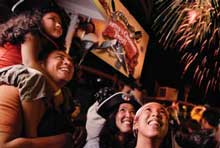 Pirates IN the Caribbean
Ship: Disney Magic, Disney Wonder
This deck party celebrates what it means to be a pirate. The event begins with a pirate-themed dinner in one of the Main Dining restaurants. After dinner, venture to Decks 9 and 10 for a treasure trove of entertainment starring some of your favorite Disney Characters bedecked in pirate garb. As the fun hits full swing, skull-and-cross bone projections signal the arrival of Captain Hook, Mr. Smee and a gang of pirate baddies. But not to worry, you can be sure Mickey and friends save the day. Featuring a breathtaking finale, with a spectacular fireworks display*.
*Fireworks are weather permitting and are not offered during Alaskan, Northern European or Norwegian Fjords cruises.
---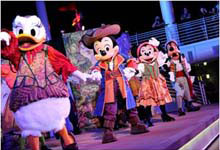 Mickey's Pirates IN the Caribbean
Ship: Disney Dream, Disney Fantasy
A family-friendly interactive show featuring the famous Disney characters. Guests become members of Mickey's Pirate Crew as they participate in a series of pirate-themed musical numbers. As a new addition to Mickey's Pirates IN the Caribbean celebration, the skies above the ship will explode with brilliant colors during Buccaneer Blast!, the largest fireworks* extravaganza presented aboard a cruise ship. This pyrotechnic spectacular is choreographed to songs from the "Pirates of the Caribbean" movies, "Peter Pan" and the Pirates of the Caribbean attraction at the Disney theme parks.
*Fireworks are weather permitting.
---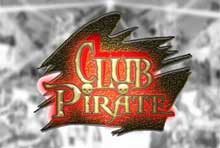 Club Pirate
Ship: Disney Dream, Disney Fantasy
Later in the evening, after the fireworks spectacular, revel in a special appearance by Captain Jack Sparrow, from the "Pirates of the Caribbean" films, who kicks off Club Pirate, a high-tech, open-air dance party on the upper decks of the ship. Guests unleash their inner pirate and dance their boots off during this family-friendly and electrifying bash featuring stunning visuals and special effects.
---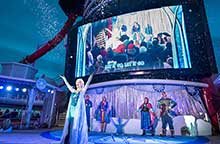 Freezing the Night Away With Anna, Elsa and Friends
Ship: Disney Magic, Disney Wonder (select Europe and Alaska sailings only)
Giant snowflakes and icicles surround the "frozen pond" that used to be the family pool at this family-friendly interactive deck party featuring the royal sisters of Arendelle and their fun-loving companions. Hosted by Queen Elsa's royal party planners, Kirsten and Yohann, the song-filled "snow"-case features appearances from Anna, Elsa and Kristoff along with virtual visits from Sven, Olaf and the trolls. With all sorts of fun dancing, great "Frozen" songs and Elsa's powerful ice magic, you won't want to miss a single thrilling—or chilling—moment.
---
Pixar Pals Party
Ship: Disney Wonder (Alaska sailings only)
Pixar Pals Party, offered exclusively on Alaskan cruises in place of Pirate Night, is a lively atrium celebration starring familiar faces from some of your favorite Disney·Pixar films. Share hugs, receive autographs, dance and sing along with the likes of Buzz Lightyear and Woody, and even delight in a special "Toy Story" menu at dinnertime.