Are you ready to escape to the Caribbean in the middle of Orlando, Florida? Loews Sapphire Falls Resort at Universal Orlando is a newer resort in Orlando. This hotels is between Cabana Bay Beach Resort, Royal Pacific, and Aventura at the Universal Orlando Resort.
Our family has been to Loews Sapphire Falls Resort many many times. We wanted to share our review of this Universal Orlando hotel in the middle of Orlando.
From the moment you walk into the lobby to check in at the front desk, you will hear the tropical music, see the bright colors, and smell the flowers. You will feel like you took a cruise ship to the Caribbean islands!
Benefits of Loews Sapphire Falls Resort
Before we jump into the hotel and amenities, I wanted to share some of the benefits of staying at a Universal Orlando Hotel.
Early Park Admission
As with all on-property Universal Orlando resorts, Sapphire Falls includes early park admission for the Wizarding World of Harry Potter (at Universal Studios Florida or Universal's Islands of Adventure). This means you can access the Universal Parks (with a theme park ticket) one hour before the gates open to the general public.
Transportation
Another benefit we love with the Universal Orlando hotels is the transportation. You can also hop on a free water taxi and shuttle bus to the parks. For Loews Sapphire Falls Resort, our family enjoys the leisure boat ride to Universal CityWalk. It is a relaxing way to get from the hotel to Universal CityWalk and the Universal Parks.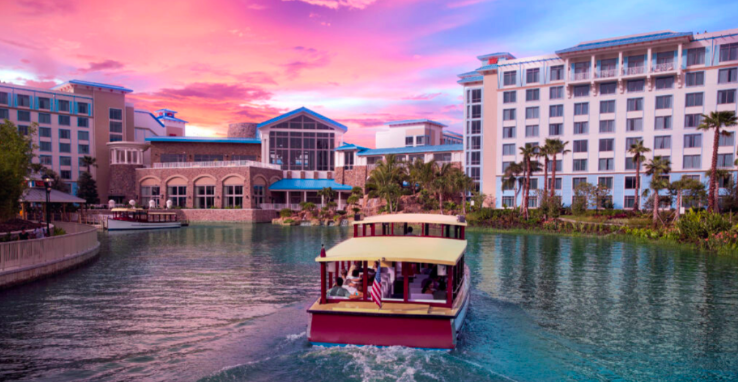 Walking Distance to Volcano Bay
If you are visiting Universal's Volcano Bay Water Park, you can walk across the street to the secret entrance by Cabana Bay Beach Resort. We love this "secret entrance" to Volcano Bay.
There are other benefits of staying at a Universal Orlando hotel, but these are our favorite perks.
Accommodations at Loews Sapphire Falls Resort
The Caribbean inspired Loews Sapphire Falls Resort at Universal Orlando Resort transports guests to paradise where blue waterfalls cascade across lush grounds and the invitation to cool relaxation is everywhere. The resort adds 1,000 rooms to Universal's resort inventory.
These 1,000 guest rooms are broken down into Standard Rooms and Family Suites. We stayed in a Standard Room with a Pool View. They also offer Lagoon Views.
All of the rooms are non-smoking.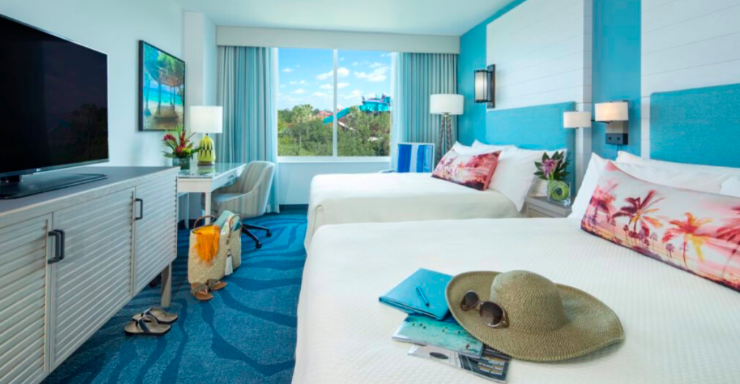 The Standard rooms are 321 square feet, putting them squarely between a Standard room at Cabana Bay Beach Resort (300 square feet) and a Standard room at Royal Pacific (335 square feet). They feature two queen beds (there are some single King beds available, but not many), a 49″ flat screen TV (again, an upgrade from Cabana Bay), air conditioning, a mini fridge, hair dryer, coffee maker, 24-hour room service, WIFI, and in room safe.
Sapphire Falls resort hotel has 83 Family Suites on property. These suites come in a variety of styles and sizes from 529 square feet for the Kids Suite all the way up to 1,353 square feet for the Hospitality Suite.
Recreation at Loews Sapphire Falls Resort
We found a ton of fun stuff to do at Sapphire Falls! From the largest pool on Universal Orlando property, to the water slide, to s'mores on the fire pit, games on the pool deck, and the arcade, you won't lack for activities during your stay at Sapphire Falls.
Sapphire Falls also includes a fitness center and a Universal store for all your souvenir needs. Remember, as an on-property Universal Orlando Resort guest, you can use the amenities at any of the other four Universal resorts, including the outdoor pools, sand beaches, pool area, hot tub, game room, business center, and fitness centers. The Jack LaLanne Fitness Center right next door at Universal's Cabana Bay Beach Resort is a great one to check out.
Dining at Loews Sapphire Falls Resort
Sapphire Falls offers several dining options, including a sit-down dining option, Amatista Cookhouse.
Rather than a food court like Cabana Bay, you can enjoy sandwiches, coffee, and ice cream at the New Dutch Trading Co. This option, just off the lobby, also includes sodas, s'mores kits, and other convenience items. We did find this grab and go shop to be rather expensive, as were all the dining options at the resort.
The Strong Water Tavern
This is a rum specialty bar that also serves dinner. Just off the lobby, the Strong Water Tavern offers an amazing view of the Universal Orlando parks and the water taxi waterway.
In addition to great rum offerings, Strong Water Tavern also has some great craft beers and a full liquor bar.
Amatista Cookhouse
Caribbean cuisine prepared in an exhibition kitchen makes Amatista Cookhouse an instantly inviting option for breakfast, lunch or dinner. Whether dining indoors or out—or in one of the private dining areas—guests of Amatista Cookhouse will feel welcomed and relaxed in this vibrant and inspiring restaurant.
We had breakfast at Amatista Cookhouse (we were a bit late, so our only option was the buffet). The buffet had some standard options (eggs and bacon), as well as some interesting offerings, such as crustless quiche! We LOVED the bacon! Some of the best we've had at a resort buffet!
Drhum Club Kantine
Lastly, you have the Drhum Club Kantine. This is the pool bar/cafe featuring a tapas-style menu that includes some amazing looking nachos! Of course, they also have some tropical adult beverages to enjoy poolside.
Sapphire Falls Resort at Universal Orlando is a hidden gem! This is one of our favorite hotels in Orlando. You can probably see why!
Ready to book your Caribbean getaway at Sapphire Falls Resort? Our team at Destinations to Explore is ready to help you plan your Caribbean escape. Call us at 877-918-8941, message us via Messenger, or request a price below.