Planning a Disney Cruise vacation can be overwhelming to navigate.  But it doesn't have to be. With five Disney cruises under my belt I want to share tips and tricks to help make it a little less overwhelming. Fortunately, setting sail on a Disney Cruise is a far less complicated experience than visiting one of the theme parks.
These six tips should set you on the right course!
Disney Cruise Vacation Tips
1. Choose The Perfect Stateroom
Frequent cruisers are particular about staterooms, and for good reason: not all of the rooms are the same. Choosing a stateroom seems pretty easy, since there's inside, ocean-view, and verandah. On a Disney Cruise there are actually several secret verandah and porthole staterooms, as well as mini-suites and over sized rooms, and often these are priced lower. Disney will sell out of the most popular staterooms up to a year in advance, so if you are eyeing up a particular one book it as soon as possible.
While a verandah is nicer for long cruises, an ocean-view room will save you money on a three or four night cruise.  The only time I suggest a verandah no matter the length of cruise is for Alaska voyages, this is premium whale watching territory.
The staterooms on Disney are made for families, and generally larger than standard cruise lines. Some cabins will even sleep a family of five!
Tip: You can decorate your stateroom doors, this helps you find it easily.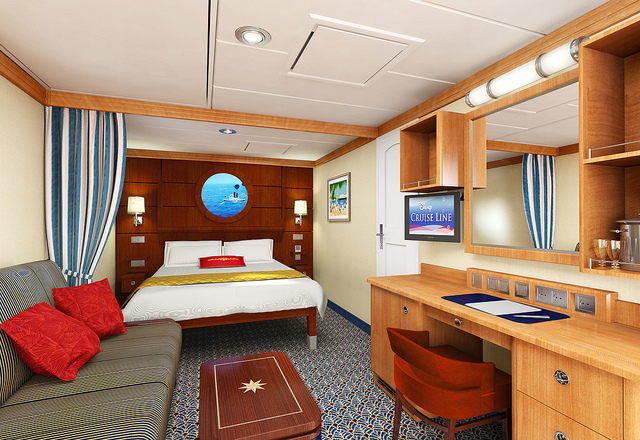 2. Use The Personal Navigator
You're provided a Personal Navigator each day with the schedule of events on it. I like carrying this in my day bag, but I also recommend downloading the Personal Navigator App to use on board. This will be your guide to everything happening on the ship, from dining, to shows and special events.
It will be in your stateroom the night before with turn down service.
3. Choose a Late Dinner
This is always our choice when we cruise with Disney. If you are traveling with older kids or adults, choose the later dinner seating (8:15) and earlier showtime (6:30.) I can assure you that both your dinner and your show will be less crowded with fewer small children. Another great perk of  late dinner seating? The Oceaneer Club counselors come in at 9 p.m. to take any restless children over the age of 3 back to the kids' clubs so the adults can finish the rest of their meal in peace or attend an adult only show after dinner.
I cannot tell you how many times my youngest has eaten her meal as fast as she can and eagerly awaited the kids club pick up.
4. Stay On The Ship
Just because you are in port doesn't mean you have to disembark. There is so much to see and do on a Disney Cruise the only way to enjoy it all is to stay on the boat! Port days mean less crowded public spaces on-board. This will also save you some money, as excursions can be quite costly.
We have been able to get some really great photos of the ship while in port, because the crowds are so minimal during the day.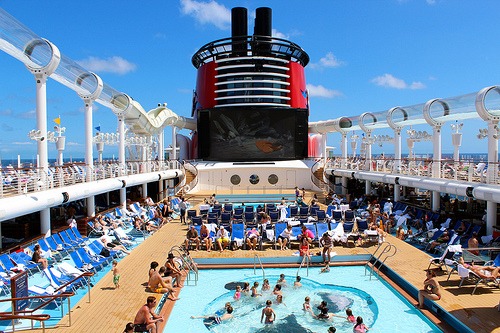 5. Enjoy FREE Room Service & A Movie
This may be my kids favorite part of the cruise. At the end of a long day they go back to our stateroom and order cookies and milk, or other tasty treats off the room service menu. Then they get comfy and find a classic Disney movie on the TV. Disney movies are on 24/7 in your stateroom and you can find classics such as Fox and The Hound or Cinderella playing each night.
6. Tipping and Your Key To The World
When you embark on your cruise at the terminal you are given a  "Key to the World" card that serves as your wallet and ID while on-board. You can swipe it just like a credit card to buy items such as adult beverages or popcorn before the nightly featured film. Be careful as those expenses add up fast! You can go to guest services and see your bill during your cruise and apply cash or Disney gift cards if you so choose. They will charge the card on file at midnight on the last night of cruise, so be prepared.
Tips are also handled a bit differently at the end of your cruise. If you prepaid tips, you will get four envelopes as well as four vouchers containing each of your service staff's name and amount of tip they will be receiving from you. At this point you can add extra cash tips if they went above and beyond. I will assure you that on a Disney cruise they will absolutely go above and beyond, so take the extra cash.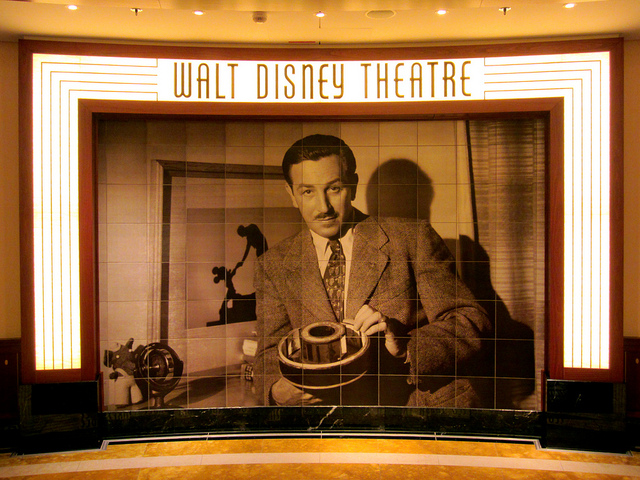 Are you ready for your 1st cruise?