Video Tour of Disney's Grand Floridian Resort
Victorian elegance meets modern sophistication at the lavish Grand Floridian Resort hotel. Relax in the sumptuous lobby as the live orchestra plays ragtime, jazz and popular Disney tunes. Unwind outdoors, indulge in a luxurious massage and watch evening fireworks light up the sky over Cinderella Castle. Just one stop to Magic Kingdom park on the complimentary Resort Monorail, this timeless Victorian-style marvel evokes Palm Beach's golden era.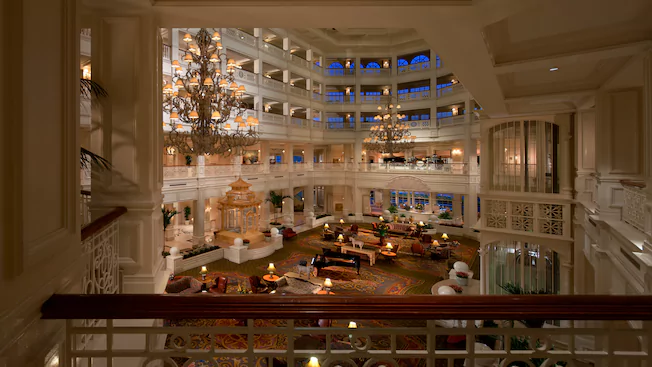 The grand Victorian lobby at Disney's Grand Floridian Resort also boasts shopping, access to a posh salon, fine dining and even a special princess promenade! Fresh flowers and wonderful seasonal holiday decorations add an extra touch of class to your stay.
Other resort amenities include a childrens' water play area and a feature pool with a water slide. Additional quiet pool is also available.
A boat launch gives you access to other resorts and the Magic Kingdom via boat. Plus, the marina also rents boats for your enjoyment.
In addition to the fine dining options, you'll also find a pool bar and grill and a quick service restaurant at Disney's Grand Floridian Resort.
We can't forget the spa and fitness center are both on site at as well!
And last, but far from least, Disney's monorail service with access to the Ticket and Transportation Center, Magic Kingdom, Disney's Contemporary Resort and Disney's Polynesian Resort is located right there at the resort, too!
This luxurious deluxe resort is a guest favorite! Have you ever visited Disney's Grand Floridian Resort?
Join us on a tour of Disney's Grand Floridian Resort!