In early summer 2017, a first-of-its-kind water theme park will erupt at Universal Orlando Resort – Universal's Volcano Bay. It will be an innovative experience filled with incredible thrills and perfected relaxation.  And on November 15, guests will have the chance to purchase tickets to experience it firsthand.  Guests can receive a notification when tickets go on sale and updates about Volcano Bay by signing up for real-time email alerts.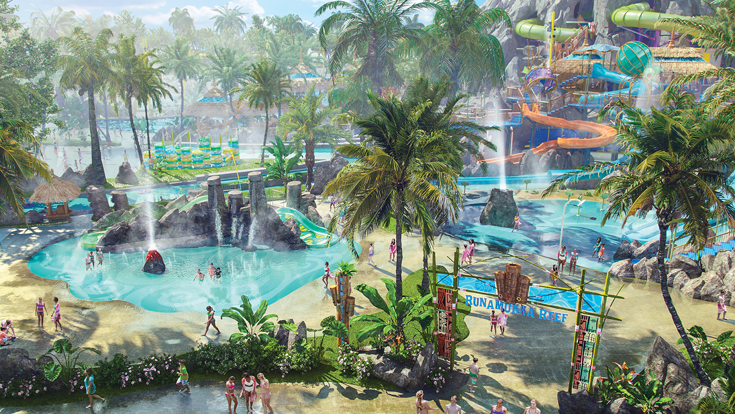 Volcano Bay will span 30 fully immersive acres and feature a variety of experiences that range from daring to serene.  Dozens of unique attractions will offer something for everyone, including a multi-directional wave pool with sandy beaches, a peaceful winding river, twisting multi-rider raft rides, speeding body slides that drop from the top of the volcano into the waters below – and more.  And the best part – guests won't have to wait in long lines to enjoy any of it.
Today, Universal Orlando Resort reveals first-ever details about the park's state-of-the-art Krakatau Aqua Coaster that will take guests on an exciting voyage unlike any other, and the all-new TapuTapu wearable technology that will redefine the way guests experience water parks.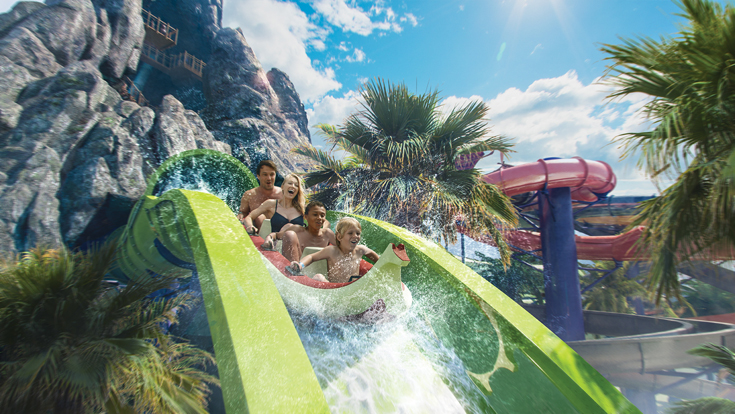 Krakatau Aqua Coaster – Volcano Bay's State-of-the-Art Marquee Attraction
Krakatau Aqua Coaster will be the star experience at Universal's Volcano Bay – combining innovative ride technology with water theme park thrills to take families on an unforgettable adventure through the park's massive icon – the 200-foot Krakatau volcano.
Guests will board specially-designed canoes and propel downwards – and upwards – through the volcano's interior peaks and valleys.  They'll twist, turn and plummet along dark passageways, be launched through sparkling waterfalls and so much more.
Universal is using some of the incredible technology that makes its theme park attractions so compelling to create a first-of-its-kind aqua coaster in Florida.  The attraction will use linear induction motor technology, which launches the canoe uphill before it immediately sends riders into a downhill plunge.  This technology – combined with the immersive theming Universal is known for – will make Krakatau Aqua Coaster a unique water theme park attraction that's fun for the entire family.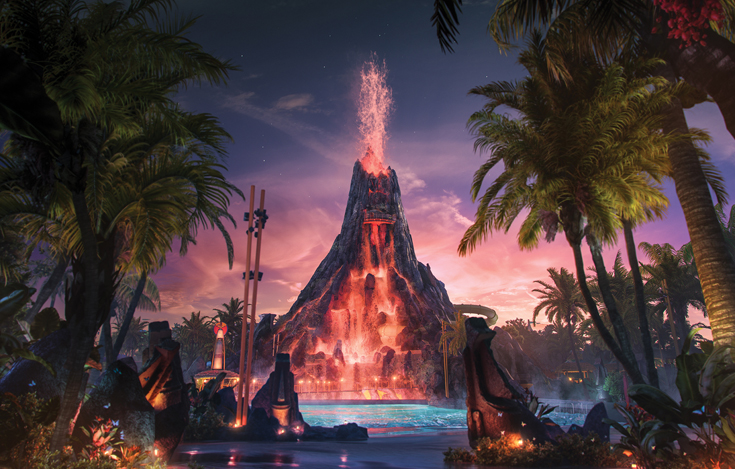 TapuTapu Wearable Will Redefine the Queue Experience – Less Time Waiting in Lines, More Time Having Fun
Universal's Volcano Bay will debut a new technology, the TapuTapu wearable, designed to make the guest experience throughout the entire park as hassle-free and fun-filled as possible.  As part of their admission, guests will receive a TapuTapu wearable upon arrival to the park that allows them to do the following with a simple tap:
·         Virtual Lines.
Guests will be able to virtually wait in line while they play in other areas of the park.  The wearable will alert guests when it's time for them to ride so they can head to the attraction.
·         Tap to play.
Guests will discover various "tap-to-play" experiences throughout the park – all designed exclusively for Volcano Bay by Universal's award-winning creative team.  With just a tap of TapuTapu, guests can trigger special effects like controlling streams of water spurting from whales in Tot Tiki Reef, shooting water cannons at guests snaking down Kopiko Wai Winding River and illuminating images in the volcano's hidden caves.