NEW DETAILS ABOUT UNIVERSAL ORLANDO RESORT "RACE THROUGH NEW YORK STARRING JIMMY FALLON"
In Spring 2017, fans will be immersed in the world of America's No. 1 late-night talk show "The Tonight Show" in a brand-new attraction – "Race Through New York Starring Jimmy Fallon." Today, Universal Orlando Resort reveals new details about the ride – where guests will get up close and personal with the show's most hilarious segments before taking off on a wild and action-packed race through New York against Jimmy Fallon himself.
The attraction will also feature cameos by familiar faces like Sara from "Ew," Jimmy in "Tight Pants," "Tonight Show" announcer Steve Higgins, and Grammy award-winning band, The Roots, who are also the musical masterminds behind the original attraction score.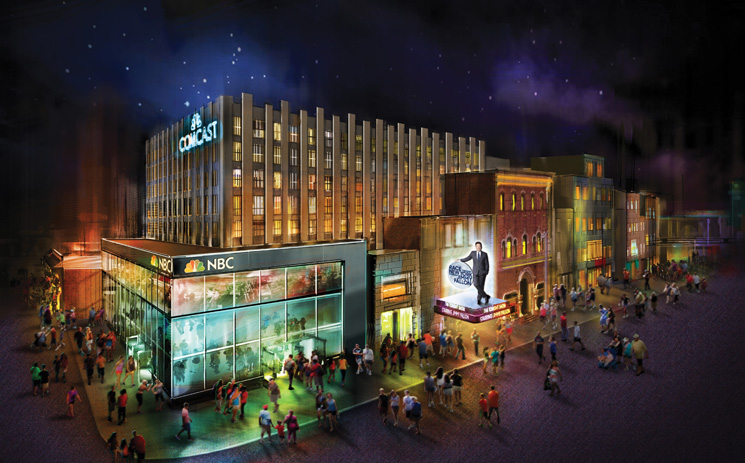 Here are some additional, never-before-revealed details:
HANG OUT IN STUDIO 6B
·         Guests can enjoy a special live performance from the Ragtime Gals barbershop quartet in the Studio 6B Club. Plus, guests will have the chance to meet and interact with The Tonight Show's beloved mascot, Hashtag the Panda.
·         Studio 6B Club will also give guests the opportunity to play host at their own Interactive Desk where they can send Jimmy Fallon's famous Thank You Notes to their friends and family, prep for their race with a 'Jimmy Drive' retro-style video game, and watch their favorite show clips. 
GET READY FOR A CRAZY RIDE
·         Guests will board the world's first-ever flying theater, which seats up to 72 audience members, for their thrilling race against Jimmy Fallon.

·         The race will take guests through the streets of New York City and all the way to the moon and back. They'll encounter iconic landmarks from the Statue of Liberty to the Empire State Building to everything in between.
EXPLORE THE HISTORY OF THE TONIGHT SHOW
·         As they step foot into the renowned NBC Studios, guests will get an up-close look at significant moments in the 62-year history of one of television's most popular franchises, "The Tonight Show."
·         In The Tonight Show lobby, guests get VIP access to NBC Studios. They'll get the once-in-a-lifetime opportunity to see real props and set pieces from one of the longest-running shows in television history – everything from actual suits of past and present hosts to NBC video cameras used to record the show to cue cards used in past episodes.