The Magic Kingdom is the Happiest Place on Earth. The wonderful food throughout the Magic Kingdom is one of the reasons that everyone has a smile on their face.  There are so many wonderful desserts and sweet treats that can be found in the Magic Kingdom.  Here are five of my favorite Magic Kingdom sweet treats:
# 5 Dole Whip at Aloha Isle: Pineapple Dole Whip is an extremely popular dessert. The line can get really long in the summer, but this cool treat is worth the wait.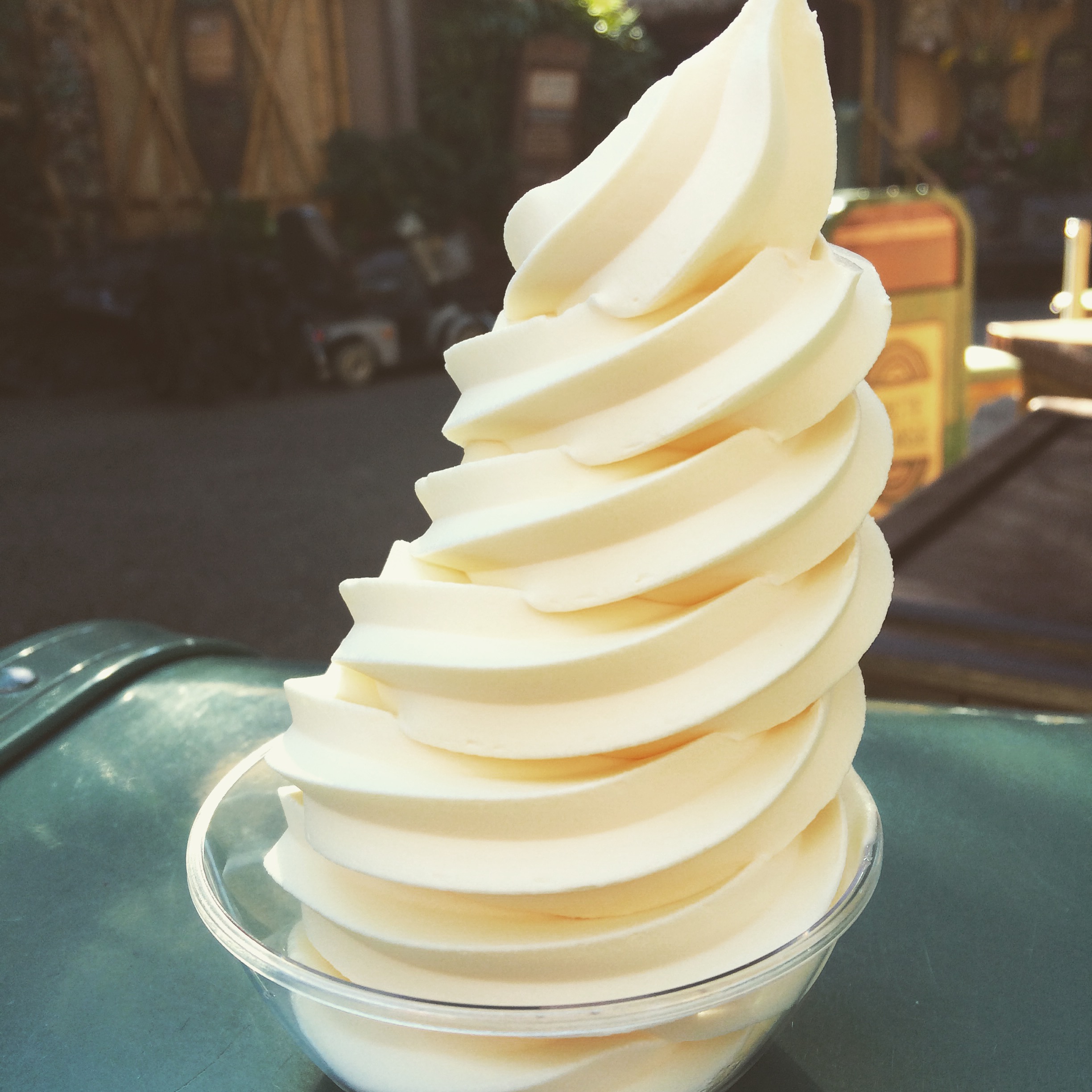 #4 Funnel Cake with Strawberries and Whipped Cream at Sleepy Hollow: Who doesn't love a funnel cake?  Adding strawberries and whipped cream just takes this familiar favorite to the next level.
#3 Mickey Ice Cream Sandwich: Everyone is familiar with the Mickey ice cream bar.  Instead of the ice cream bar, I recommend trying the Mickey ice cream sandwich on your next trip to the Magic Kingdom.  This cookies n cream ice cream sandwich is delicious!
#2 Cinnamon Roll from Gaston's Tavern: These extra large cinnamon rolls are served warm.  They are ooey gooey and hit the spot for anyone with a sweet tooth.
#1 Strawberry Cream Cheese Cupcake at Be Our Guest Restaurant: Normally, I am a huge chocolate lover.  These strawberry cupcakes made me rethink my favorite dessert.  Go ahead and try the grey stuff but you should also eat this cupcake!! The cupcake has a vanilla sponge, cream cheese icing, and a strawberry mousse filling that brings it all together.  The foodie in me just smiles every time I eat one of these beauties!!
Written by Shante Carson — Shante is a Disney Expert with tons of first hand experience at Walt Disney World, Disney Cruise Line, and Disneyland.  Whether on land or see Shante can make your vacation magical!  Shante is ready to help you plan your Disney vacation. Book your next vacation with Shante at 252-917-0497 or shante@destinationsinflorida.com.