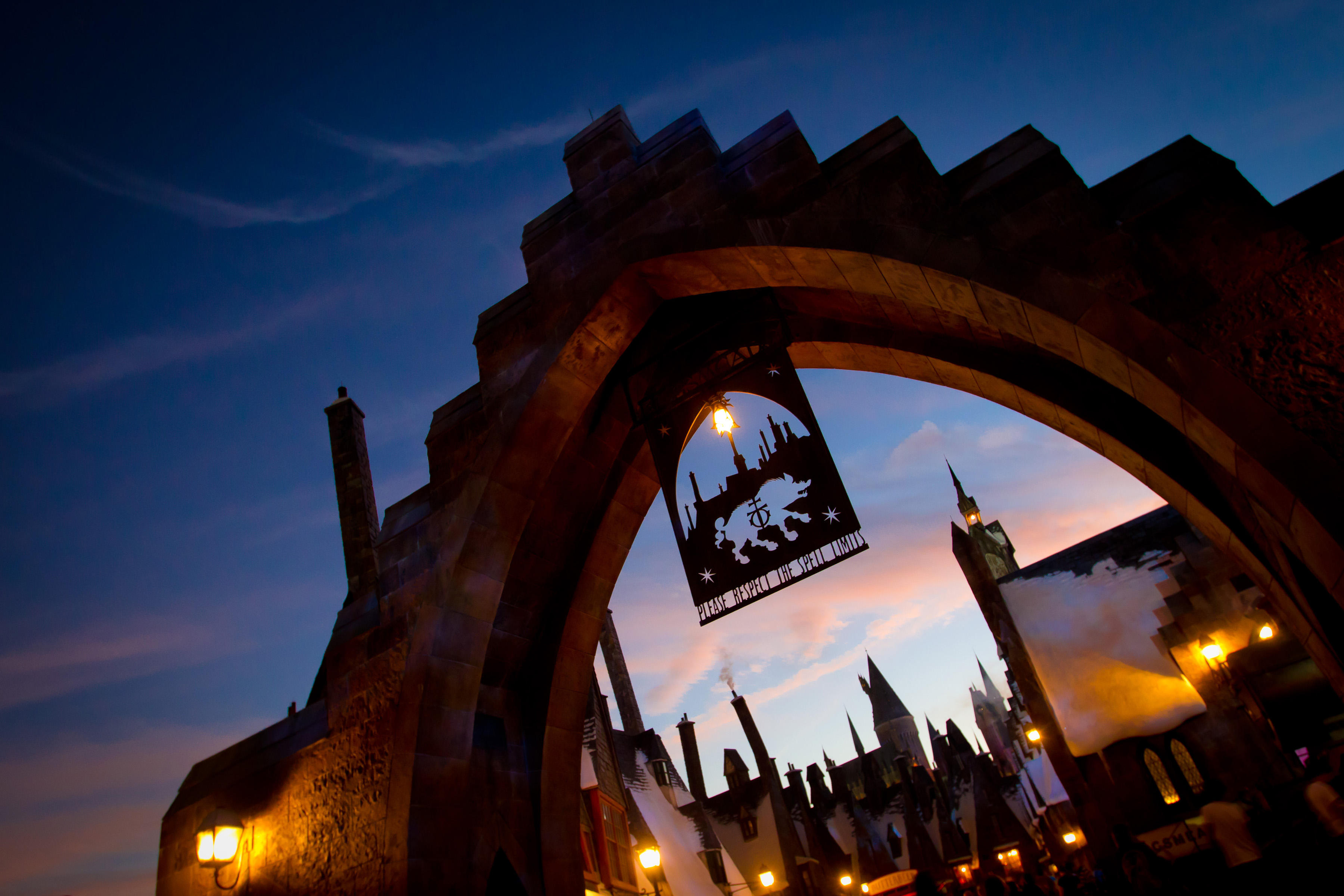 While thousands of excited Harry Potter fans arrive early each morning at Universal Orlando to embark on their magical adventure, nothing compares to experiencing the magic of Nighttime at Hogsmeade.  
When night falls on The Wizarding World of Harry Potter, a bit of extra magic takes place as the park comes to life.  Not only is Hogsmeade beautiful at night, but the crowds also start to dwindle in the quaint and intimate shops, the heat of the day is gone, and shorter wait times allow for more magical merriment.
After a long day, enjoy a butter beer at Three Broomsticks or take your time finding the perfect wand at Ollivanders, Makers of Fine Wands since 382 B.C.!  With fewer visitors trying to crowd in the smallish store, you can truly enjoy the unique interactive experience of seeing a wand choose a wizard.  Continue your shopping at Honeydukes to fill up a bag of Bertie Bott's Every-Flavour Beans™… who knows what tasty (or not so tasty) flavors you'll discover!  Take your time picking out the perfect souvenir in the Wizarding World at Dirvish and Banges or Fitch's Emporium.  Sneakoscopes, Spectrespecs, Omnioculars, Quidditch Gear, Broomsticks, School Uniforms and much more are there for the avid Harry Potter fan.
An extra incentive for visiting the Wizarding World of Harry Potter at night is that you can peer into the many animated shop windows throughout Hogsmeade Village without the glare of the sun during the day. As a result, you can spot dazzling visuals like a golden snitch flying around, something that is almost impossible to see during the daytime!
While most of the excited Harry Potter fans are showing up when the park opens in the morning, the real magic comes alive within the Wizarding World at night.  You may find yourself wondering if you are really just in a theme park or if you have somehow transported to another time and place. If you truly want to get lost in the Wizarding World of Harry Potter, Nighttime at Hogsmeade will immerse you and leave you with magical memories for years to come.
Written by Linda Klepaczyk: Whether it is a weekend get-away or a yearly family vacation, Linda is committed to helping you make memories of a lifetime. Vacation planning can be time consuming and overwhelming! If you have a limited budget or no budget at all, she will tailor make a vacation plan to suit your needs and preferences. Linda specializes in Orlando destinations, Cruising and Group Travel. Where in the world is your destination to explore? Book your next vacation with Linda at 734-646-7987 or linda@destinationstoexplore.com.