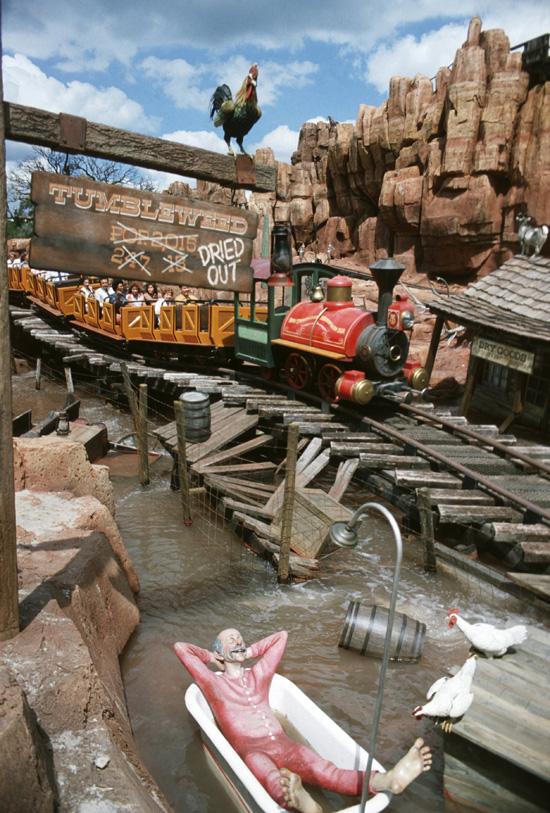 When you reference the Mountains in Walt Disney World (Big Thunder Mountain Railroad, Splash Mountain, and Space Mountain), they are all great, but my top choice is Big Thunder Mountain Railroad.  
My birthday is November 15th, and so was the Grand Opening Celebration of Big Thunder Mountain.  I happened to be in Disney that week and had a chance to experience this great family friendly coaster as a child.  Which began my love for roller coasters and Disney.
The story goes that a flash flood passed through this old western mining town of Tumbleweed causing havoc.  Where riders get to ride on runaway mine trains through a haunted gold mine.  The ride is about 3 minutes and 30 seconds long and speeds up to about 30mph.  It is on a track with 3 main dips but no big drops.  If you are looking for a more exciting ride, always sit in one of the rear cars. As the front cars are tamer.  Fun Facts: Check out the quirky names of each mine train. I.M. Brave, U.R. Bold, I.B Hearty, I.M. Fearless, U.R. Daring & U.R. Courageous.
Make sure to ride twice, Once during the day and again at night when the sun goes down, and the mountain is lit up.  You will have an entirely different ride experience.
So on your next adventure to Walt Disney World make sure to take a ride on the Big Thunder Mountain Railroad.  Don't forget to get a FastPass + and enjoy the ride.
Written by Dawn Caitano: Dawn creates lasting memories by planning your customized vacations all over the world. Not only does she find the BEST accommodations with the BEST value, but she will fill in all the blanks for you, all at no cost to you. Traveling is her passion! Passing that magic on to your family is what fuels that passion!  So call Dawn today to start your next Adventure. Book your next vacation with Dawn at 917-494-5771 or dawn@destinationsinflorida.com