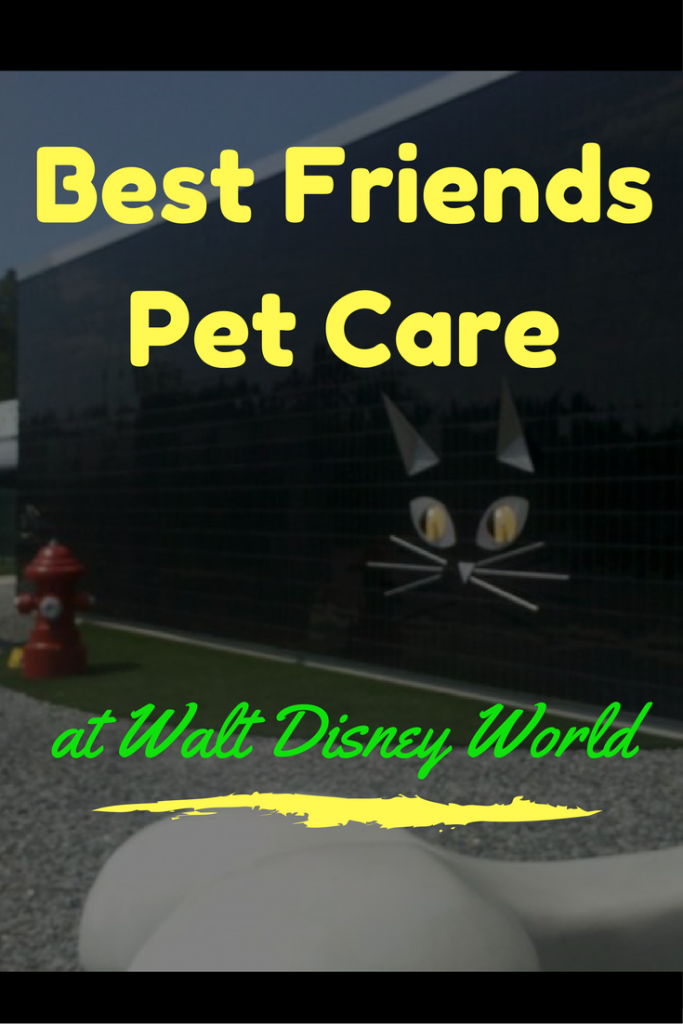 Are you thinking about heading to Orlando for a fun family vacation? But you are afraid to leave your pets at home. Well, the great news is that you can bring them with you. Yes, now your pets can enjoy a vacation of their own at Best Friends Pet Care. Located inside the gates of Walt Disney World. I have used their services in the past for my dog and highly recommend them.
All pets must be up to date on all of their shots; You can fax over your paperwork before arrival to save time. The facility is very clean, and the staff is wonderful. The mornings can be crazy with new arrivals, so make sure to allocate enough time to get registered. Keep in mind some breeds are not allowed to participate in playtime with other dogs.(Aggressive Breeds).
Services they offer:
Boarding & Pet and Stay
Day Camp
Grooming
A la carte services
All of the accommodations are climate controlled. Standard sizes starting at 4 x 7 or 4 X 8. Two potty walks are included. Guests are allowed to stop in at any time during operating hours to walk their dogs in the doggie park or walking trail. I did go and visit my dog in the afternoon on the first day just to check in and make sure that she was alright. She was fine, and I was more stressed then she was. I was also happy that they did send photos of my dog to my phone which was nice.They also have pet-cams that you can log into throughout the day to check in on your pet.
Best Friends Pet Care also has indoor and outdoor (2) room suites. Vacation Villas, VIP Luxury Suites, Kitty City and Pocket Pets. If you are staying on site, the price is a little lower then if you are staying in a non Disney owned property. Prices start at $28 to $89 depending on the choice of accommodations or pet.
Play and Stay (4) hours of playtime with other dogs.
Playgroup 30 minutes of play with other dogs.
Playtime 10 minutes with an associate.
Cuddle time
Walk and explore
Bedtime story
Ice cream break
Holiday meal
Premium bed
Leave your fears behind and take your family on vacation and be sure your pets will enjoy a little vacation of their own.So if you need a place for your pets to spend a few days while you are visiting Orlando or the Walt Disney World Resort head over to Best Friends Pet Care.
Written by Dawn Caitano: Dawn creates lasting memories by planning your customized vacations all over the world. Not only does she find the BEST accommodations with the BEST value, but she will fill in all the blanks for you, all at no cost to you. Traveling is her passion! Passing that magic on to your family is what fuels that passion! So call Dawn today to start your next Adventure. Book your next vacation with Dawn at 917-494-5771 or dawn@destinationsinflorida.com.