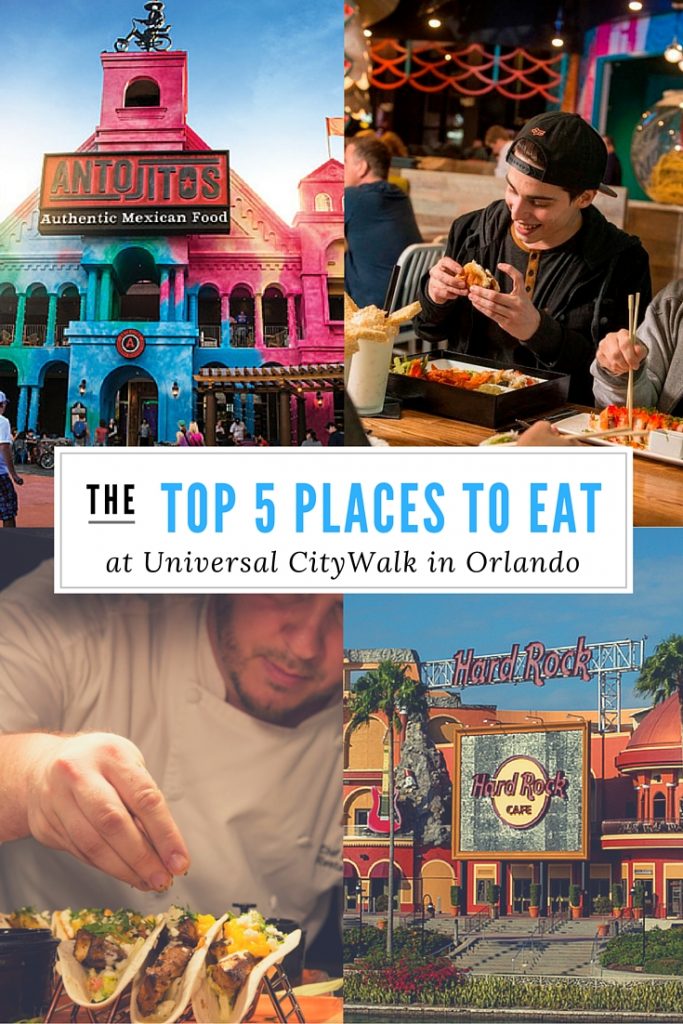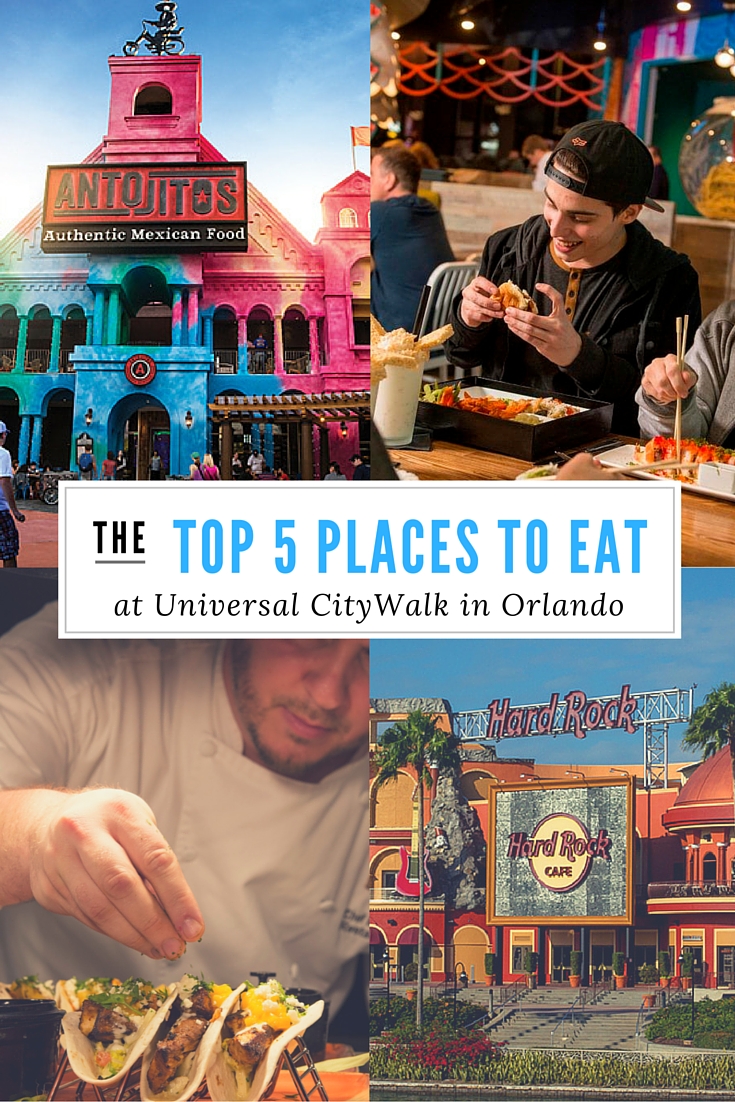 Are you looking for a break from the theme parks? Did you know you can dine all over Universal Orlando Resorts? In the two theme parks, at one of the (5) On-site Universal resort hotels and on Universal's Citywalk. Featuring some of the best dining options, shopping, and nightlife.
Here are a few of my favorite places to dine on Universal's Citywalk.
# 5 Antojitos Authentic Mexican Food
Full Service Dining Location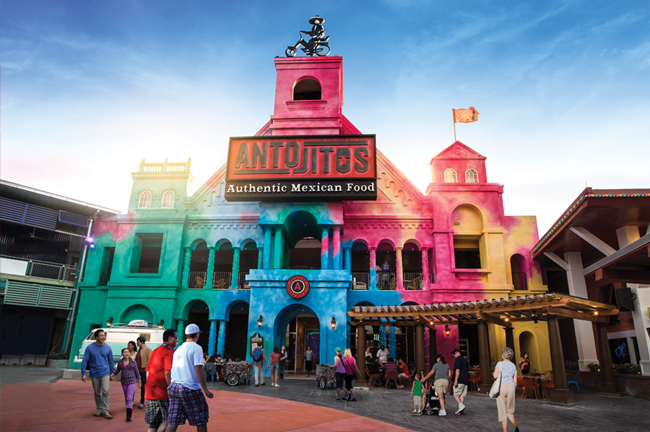 The classic menu is based on the cantinas, street carts, and markets around Mexico City. They use the freshest ingredients. Serving their foods marinated, roasted or grilled to perfection. Steaming fresh tortillas; fresh, colorful vegetables; and hot, succulent meats. You will feel like you are in a real Mexican cantina once you set foot into this colorful Mexican themed restaurant. Serving some of the finest Margarita's, make sure to step into Antojitos on your next visit.
Antojitos Menu
Antojitos Video
# 4 Emeril's Restaurant Orlando
Full Service Dining Location
I would recommend Emerils for adults and couples. Here you can find some of Emeril's classic Creole creations, with bold flavors. Featuring an open kitchen with a 12,000 bottle wine gallery, along with a cigar bar. Making this a favorite for couples and adults looking for a great meal.
Emeril's Lunch Menu
Emeril's Dinner Menu
Emeril's Kids Menu
Happy Hour Menu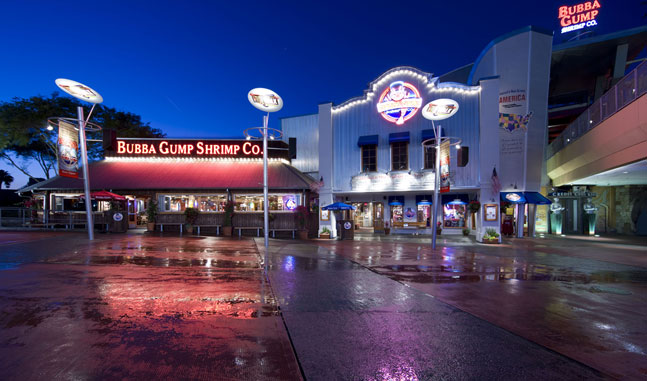 # 3 Bubba Gump Shrimp Co
Full Service Dining Location
This is a fun take on the movie Forrest Gump where there is something great to eat for the entire family. Your choice of shrimp served in just about every way possible. Or if you are not into shrimp then try some of the southern classics like baby back ribs. Kids meals are served in paper shrimp boats. I love the coconut shrimp on this menu. Your servers will quiz you on the best Forrest Gump trivia, so be prepared if you want to stump your server and make sure to brush up on your trivia.
# 2 Cowfish
Full Service Dining Location
This is the greatest concept Sushi & Burgers. Making this a great place serving something for everyone pallette. Serving signature creations are what they call "Burgushi®"! A cutting-edge fusion of burger and sushi, Burgushi®items include sushi rolls created using burger components, and pick-up style sandwiches created using sushi ingredients.Or you can just do some of your favorite Sushi selections or one of the best burgers in town. Offering something for the entire family to enjoy. If you can't make up your mind, try a bento box to sample a mini-burger along with your choice of sushi roll and three tasty side items!
Cowfish Adult Menu
Cowfish Kids Menu
Cowfish Beverage Menu
Cowfish Video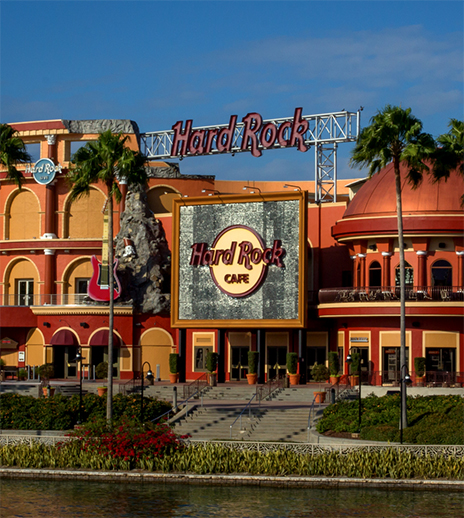 # 1 Hard Rock Cafe
Full Service Dining Location
Great location for the entire family. You'll be surrounded by memorabilia of music's greatest talents. Enjoy classic American cuisine and barbecue specialties including nachos, wings, and Tupelo Chicken Tenders; Hickory Smoked Bar-B-Que Chicken and Ribs; steak; fajitas; Twisted Mac, Chicken & Cheese; Hickory-Smoked Pulled-Pork Sandwich; a variety of salads; ten different kinds of burgers; desserts; plus a full bar. My favorite is the Twisted Mac it is a must have on my list. All while listening to Classic Rock. Be sure to ask for a VIBE tour if you have some free time, and you will be pleasantly surprised to find out some great Rock N Roll History!
Make sure to head over to Universal's Citywalk and dine at one of my favorite restaurants. Just another fun way to enjoy Universal Orlando Resort. Where you can find two of the hottest theme parks and some of the best dining and nightlife in Orlando. Now is the time to book your next adventure!
Written by Dawn Caitano:  Dawn creates lasting memories by planning your customized vacations all over the world. Not only does she find the BEST accommodations with the BEST value, but she will fill in all the blanks for you, all at no cost to you. Traveling is her passion! Passing that magic on to your family is what fuels that passion! So call Dawn today to start your next Adventure. Book your next vacation with Dawn at 917-494-5771 or dawn@destinationsinflorida.com