Orlando's Tallest, Fastest and Longest Coaster! Mako now open at SeaWorld Orlando
A powerful new predator opens June 10 at SeaWorld Orlando, challenging even the most confident thrill-seekers to experience its remarkable speed and stature.
When it opens to the public, MAKO™, a 200-foot-tall hypercoaster, will become the tallest, fastest and longest roller coaster among Orlando's popular theme parks.  The coaster anchors a two-acre realm — Shark Wreck Reef — that also includes SeaWorld's existing Shark Encounter attraction, interactive learning exhibits and dining and shopping options.
"Mako and Shark Wreck Reef rewrite the definition of 'immersive' entertainment," said SeaWorld Orlando President Donnie Mills. "Our guests now have a whole new underwater world to explore — and a thrilling new ride to conquer that's literally breathtaking."
The fifth coaster in SeaWorld Orlando's portfolio, Mako accelerates to 73 mph as it whips passengers along an imposing, nearly mile-long track. Its design was inspired by its namesake: Mako sharks — also called "blue pointers" — are known for their speed and ability to quickly change course as they pursue prey.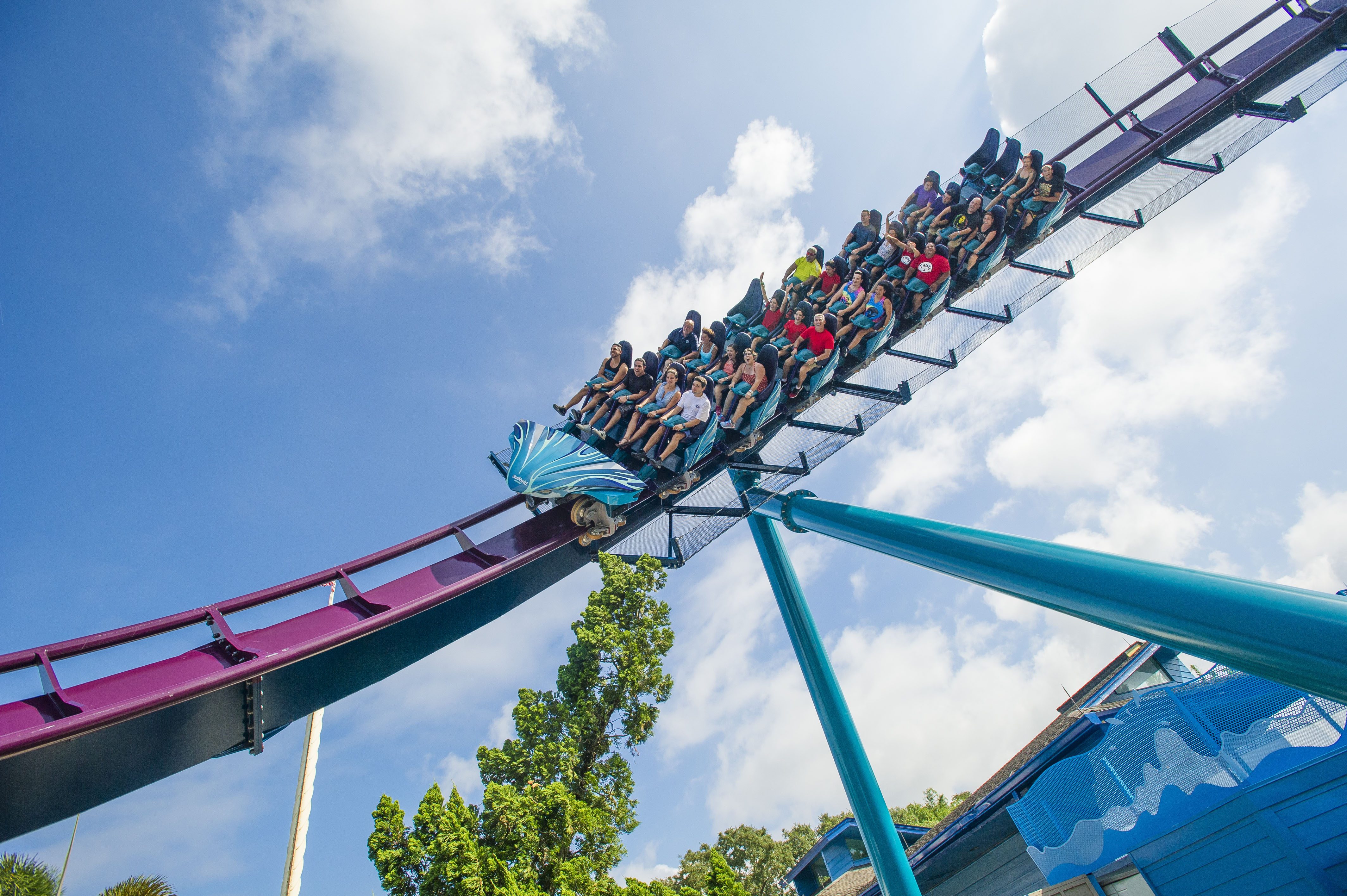 Mako is also one of the world's few true hypercoasters, a group of roller coasters known for high speeds and steep drops and hills that create a feeling of weightlessness or "air time."  As the sleek coaster cars crest each hill, riders — secured only at their laps — float out of their seats, nearly weightless.
"For almost three exhilarating minutes, you experience life as an apex predator," said Brian Morrow, SeaWorld's Vice President of Theme Park Experience and Design.  "You surge through the water at top speeds, charge to the ocean depths and chase prey throughout a massive reef."
Immersive Design
From the moment they walk into the new realm, guests can hear the roar and feel the rumble of the massive coaster that passes within feet of pedestrian paths and juts out over open water.  Rich design elements, colors and textures, and hand-crafted materials make guests feel as if they're part of a living ecosystem at the bottom of the sea.
At the ride's entrance, colonies of tangerine and yellow corals support the wreckage of a sunken ship whose wood has distressed after decades beneath the water's surface.  As guests make their way to the queue line, they pass beneath a hulking, two-story fishing pier, then wind their way up rusted stairways through the ramparts of another shipwreck — this one larger, darker and much more intimidating.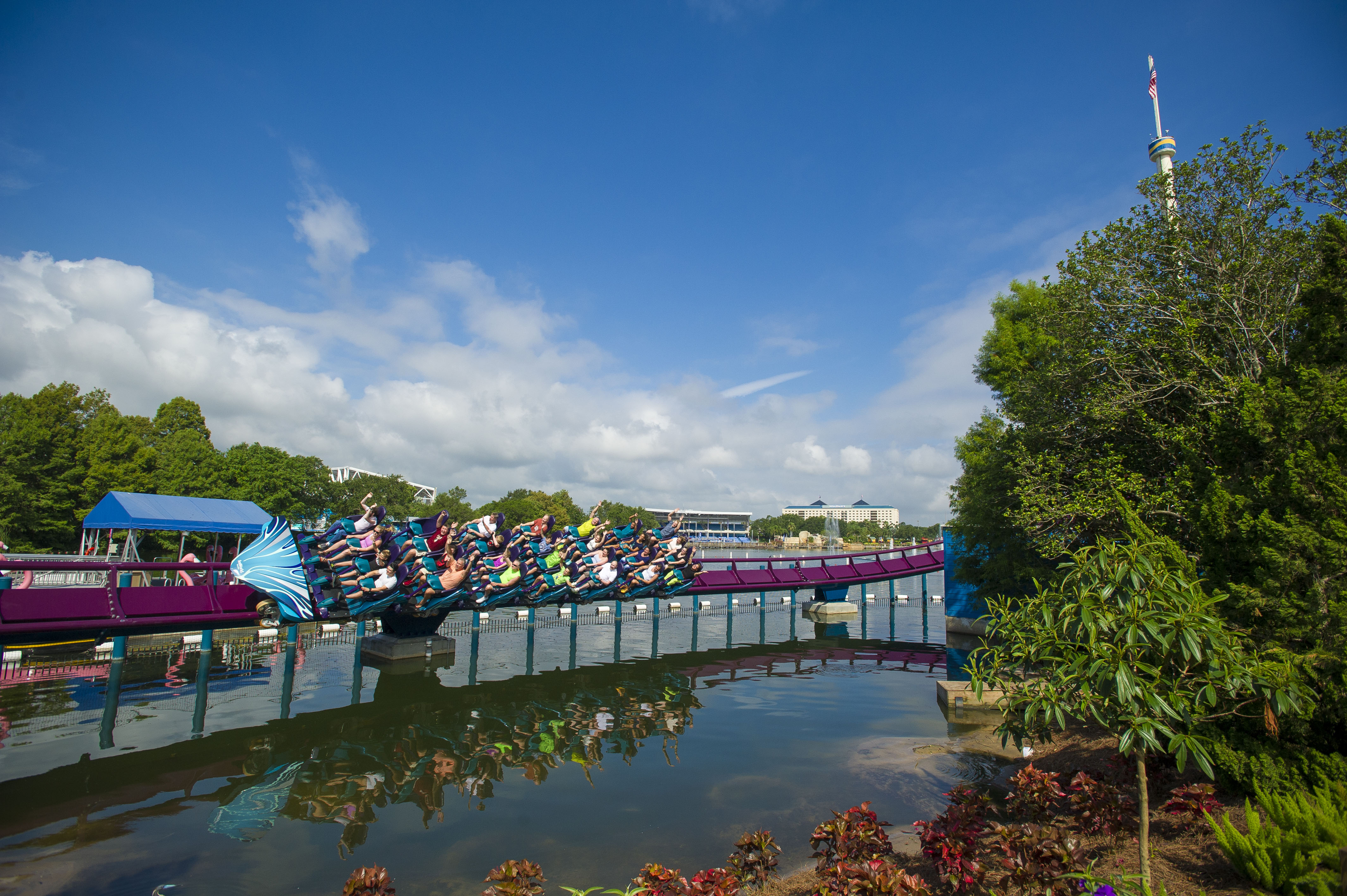 Throughout the queue, riders cannot view the deep purple and teal coaster track in its entirety, instead getting only glimpses of what's waiting for them at the top of the wreck.  Even as they're secured into the coaster car and about to embark, the first two vertical drops — unquestionably the ride's most heart-stopping elements — remain obscured until the car reaches the 200-foot mark.
Heightening the sensory experience, a 48,000-watt, intelligent surround-sound system plays an original soundtrack throughout the realm, evoking the fascination and wonder of the sea. The musical score can be heard by riders as they come out of the station and climb all the way up the lift hill.
Shark Education and Conservation
"As we designed and built this new realm, the educational component was a top priority," said Mills.  "We want guests to leave excited and exhilarated by what they experienced here, and we also want them to leave inspired by what they learned here.  Sharks are in peril throughout the world and we can all do something about that — that's our message."
Through several interactive learning stations, guests discover how different species are classified and what sharks like to eat. The fun, engaging exhibits dispel myths about sharks, including how few people are killed each year in shark attacks (10) compared to how many humans die of bee stings (725,000) and parasite-carrying snails (10,000).
The stations also explain how human behaviors are threatening some sharks to the point of extinction. Sharks are hunted for their fins — considered a delicacy in certain countries — and thousands are accidentally caught by long fishing lines and in commercial nets.
"It's really eye opening to learn how sharks are struggling in the wild," said Mills.  "We believe the more people exposed to this message means more people making informed decisions, and sharks' odds of survival improve."
Mako Adds to Coaster Portfolio
With the addition of Mako, SeaWorld now has five coaster experiences spanning a range of ages and appetites. Mako joins:
Kraken® — themed after a massive, mythological underwater beast unleashed from the depths of the sea.
Manta® — the only flying roller coaster of its kind in the world; guests ride head-first, face-down through inversions and loops.
Journey to Atlantis® — an edge-of-your-seat water coaster that plunges guests into the middle of a clash for the lost city of Atlantis.
Shamu Express® — a junior-sized coaster perfect for families with younger children.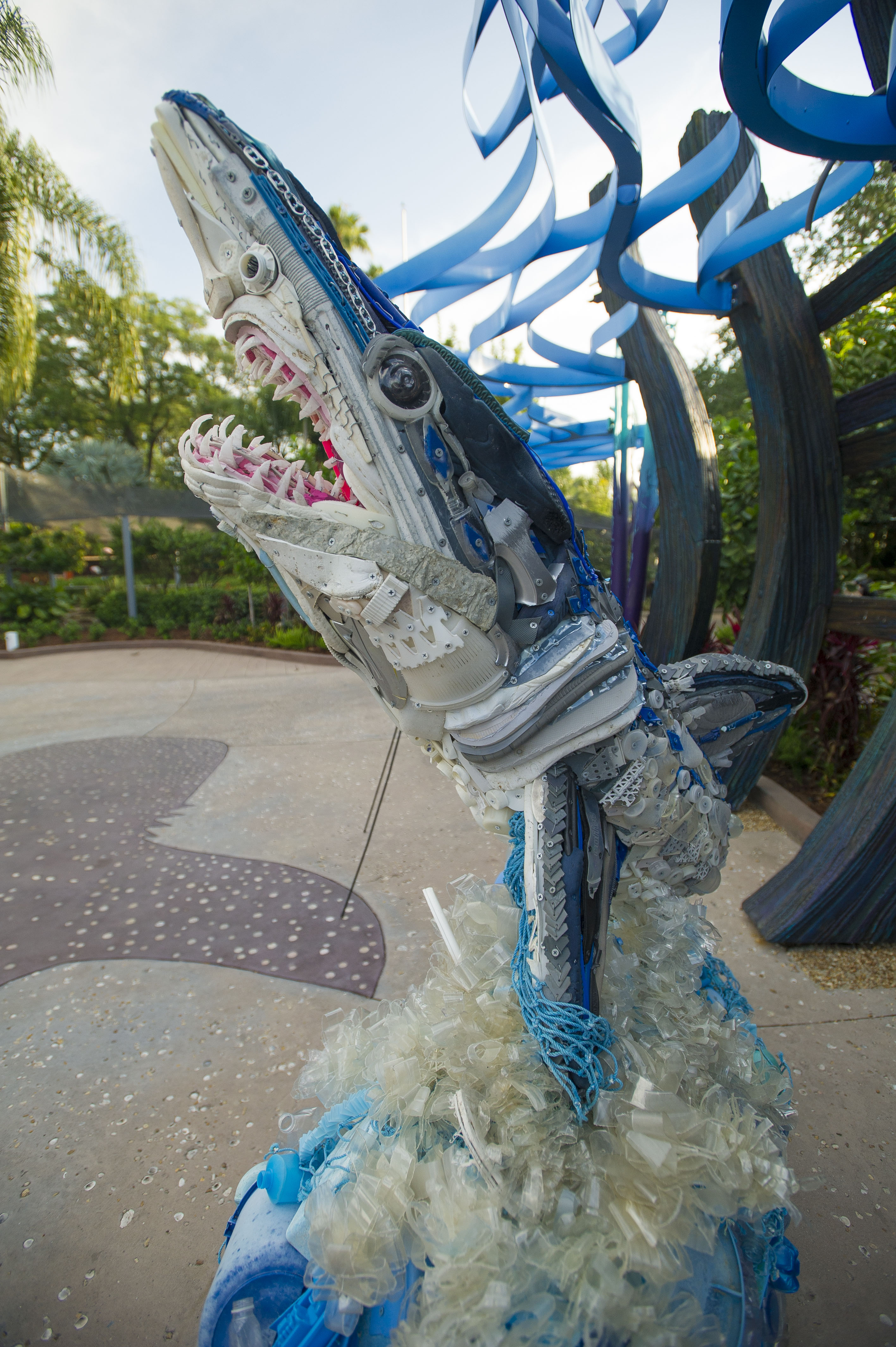 "Our fans will love how Mako complements our other rides. Kraken is big, monstrous and twisty," said Morrow.  "Manta is massive and glides smoothly, taking you on a flight like a huge ray.  Mako is entirely different.  It's streamlined and fast, just like a mako shark.  There's no wasted motion, it's all speed and dives."
Summer of Mako
To celebrate the new realm, SeaWorld today also launched Summer of Mako, a park-wide event that takes advantage of the longer summer nights and amps up the park's fun factor.
Throughout the day, guests will have more opportunities to meet SeaWorld's animals, attend scheduled feedings and talk with animal ambassadors, educators and experts.  Guests can also participate in a park-wide, text message-based scavenger hunt called Mako Challenge; for every completed challenge, SeaWorld will donate $1 to the SeaWorld Busch Gardens Conservation Fund on their behalf.
The park is also offering several limited-time, Mako-inspired and SeaWorld-exclusive products including a honey vanilla mako shark cookie; a SeaWorld exclusive Coca-Cola Freestyle mix, Mako Blast; a specialty alcoholic beverage only available at Shark's Underwater Grill; and Mako American Red Ale, a SeaWorld exclusive brew available in several locations around SeaWorld.
Also opening June 10 is the all-new Shark Touch Pool where guests who have ever dreamed of touching a shark will have the opportunity to do so this summer at SeaWorld Orlando. The Relaxation Station located near Wild Artic will be home to a brand-new educational experience where guests will have the chance to learn about and interact with brownbanded bamboo sharks, whitespotted bamboo sharks and epaulette sharks.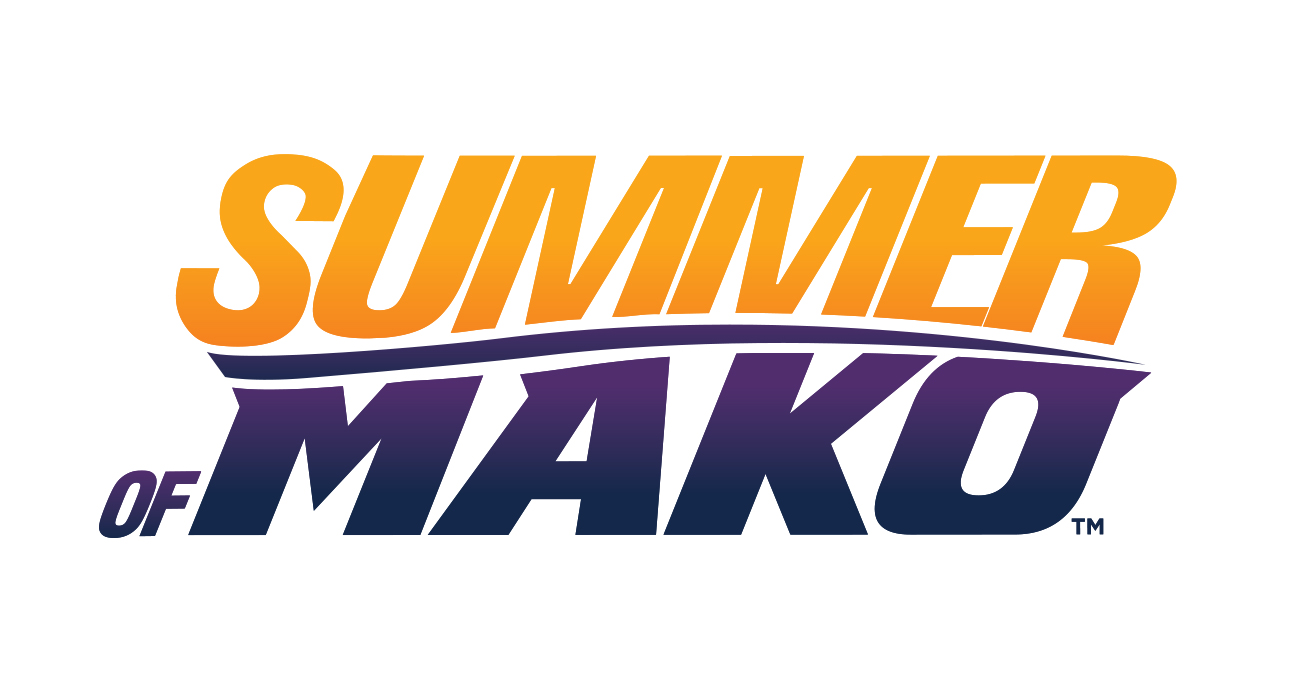 As the sun sets each evening, the park kicks it into even high gear, allowing guests to experience coasters and other rides at night.  Fan favorite Shamu's Celebration: Light up the Night returns June 18 with high-energy, feel-good music, stylistic lighting, colorful backdrops and a fireworks finale.  A special Block Party with dance music and street entertainment takes place along SeaWorld's Waterfront.
The park is offering a $99 ticket that includes admission to both SeaWorld and Aquatica Water Park, which kicks off its own summer celebration, Island Nights presented by Coca-Cola®, on July 8.  Florida residents can purchase an annual pass to both parks and pay just $16/month.