Tiffins, Nomad Lounge Newest Dining Experiences At Disney's Animal Kingdom at Walt Disney World Resort
Celebrating the adventurous spirit of world travelers and explorers, Tiffins is the newest signature restaurant at Walt Disney World Resort, part of the largest expansion in the history of Disney's Animal Kingdom theme park.
"Tiffin" is the Indian word for a lunchbox used by travelers (also a mid-day meal), and the 252-seat restaurant in the park's Discovery Island area is open daily for lunch and dinner with menus that takes diners to Europe, Africa, Asia and the Americas.
"This new restaurant highlights our commitment to introduce new, innovative and immersive experiences only Disney can deliver," said Beth Scott, vice president of Food & Beverage for Disney Parks & Resorts. " We are confident that our culinary and beverage professionals have created something that re-imagines theme park dining, and encourage our guests to explore these authentic global flavors just as our Imagineers did when designing Disney's Animal Kingdom."
A detailed map within the restaurant's entryway sets the stage for an immersive dining experience celebrating world travel, with bold artwork derived from sketches, journals and research from those who created the theme park.
"Tiffins is the signature restaurant at Disney's Animal Kingdom, celebrating the culture of design and research that went into creating this unique park," said Emily O'Brien, Walt Disney Imagineering executive show producer for Disney's Animal Kingdom.
"All the senses are explored and turned into amazing works of art," said O'Brien. "Two of the three 'galleries,' or dining rooms, focus on Asia [Trek Gallery with 74 seats] and Africa [Safari Gallery with 64 seats], and the third [Grand Gallery with 114 seats] pays homage to animal species that the Disney Worldwide Conservation Fund works to protect."
The travel-inspired artwork includes a static, three-dimensional piece that features prayer flags blowing in the wind. "As our research team traveled up the high mountains of Nepal, the winds were strong," explained O'Brien. "The prayer flags are rarely seen hanging, they are always blowing." This portrayal of the motion is realistically captured in the display which will hang above a corner booth in the Trek Gallery.
"Tiffins is not about a make-believe place, it's about real people and places," said O'Brien.
Global Menu
From the familiar to something new, the menu offers diners starters such a Lobster-Popcorn Thai Curry Soup with Basil and Peanuts (Asia/Africa) and marinated grilled octopus (Europe). Sustainable seasonal fish crudo (South America) and a salad of roasted baby beets and goat cheese with walnut granola and a sun-dried cherry vinaigrette (North America) round out international creations.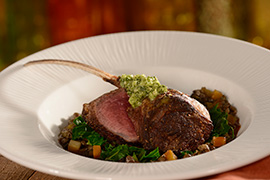 Entrées include Berber-Spiced Lamb Chop with Mustard Greens, Lentil Stew and Mint Chutney (Africa); Berkshire Pork Tenderloin with Huitlacoche Tamale, Hominy Succotash and Red Mole Sauce (South America); Miso-glazed Black Cod with Forbidden Rice in Steamed Bok Choywith Turmeric Sauce (Asia), and Grilled Head-on Shrimp with Tomatoes, Roasted Fennel, Olives and Sea Urchin Butter Sauce (Europe). For vegetarians, the Roasted Market Vegetable Curry with Quinoa, Zucchini and Lime Chutney brings a taste of Asia.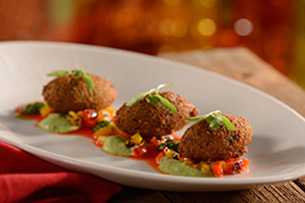 The kids' menu includes roasted chicken, pan-seared cod and braised short ribs with seasonal vegetables and cous cous or multigrain rice, or roasted vegetables served over spaghetti squash.
Beverages focus on Africa, Asia and South America, including handcrafted cocktails and beers. Non-alcoholic beverages include exotic-fruit-flavored lemonades, Asian and African premium loose-leaf teas and coffee beans from Columbia, Ethiopia, Indonesia and Tanzania.
"With a focus on South American and South African wines, the beverage program is very special – we don't have another one like it at Disney," said Master Sommelier Brian Koziol, Food & Beverage Concept and Development director for Disney Parks & Resorts. "The program will focus on environmentality: producers that focus on sustainability, organic wines, and bio-dynamic viticulture," he explained. "Environmentality is a core value at Disney's Animal Kingdom, and this beverage program is a great way to share that with our guests."
Nomad Lounge
With beautiful waterfront views, the adjacent Nomad Lounge focuses on storytelling, and also on guests' travels.
"We're trying to tell the story of how guests can make a change," said O'Brien. While the answers of Disney experts are displayed, guests also have the opportunity purchase a tag that supports the Disney Conservation Fund and to write their own answers to the questions to display above the bar– a way to share their own travel stories "so they can be a part of the story," said O'Brien.
With 55 seats inside, and 46 seats in a covered outdoor area, Nomad Lounge offers a half-dozen small bites such as a vegetarian summer roll, a seared Wagyu beef skewer, honey-glazed coriander-spiced pork ribs, Indian butter-chicken wings, seasonal fish balls with shishito peppers and house-made head cheese and chicken liver pate with chutney.
Like Tiffins, the lounge offers handcrafted cocktails with African, Asian and South American flavors, imported beers and a South American and South African wine list. Non-alcoholic beverages include exotic-fruit-flavored lemonades, Asian and African premium loose-leaf teas and coffee beans from Columbia, Ethiopia, Indonesia and Tanzania.
For Tiffins reservations, guests can visit DisneyWorld.com/dining or call 407-WDW-DINE.