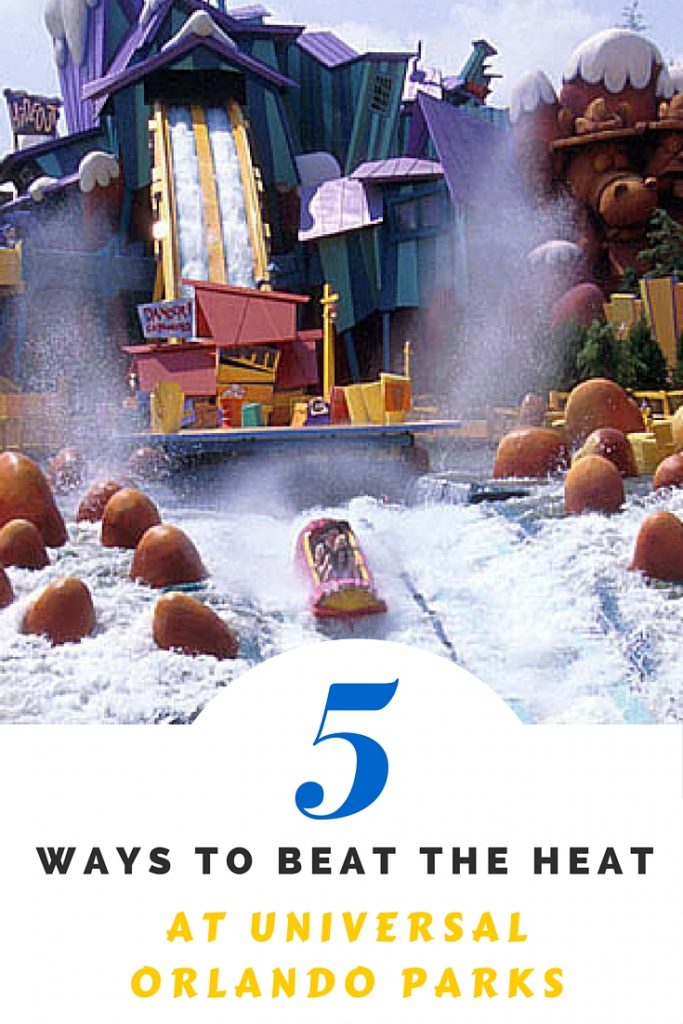 Here are my favorite fun ways to beat the heat at Universal's Islands of Adventure. We all know how much fun you can have in Orlando, but the heat can be a problem for many visitors.
#5 Hit the Water Rides
When you are at Universal's Islands of Adventure make sure to try out one of the three great water rides. You won't just get wet you will be soaked! Make sure to take that into consideration when experiencing any of these three attractions. Make a big splash on Dudley Do Right's Ripsaw Falls, Popeye & Bluto's Bilge-Rat Barges or The Jurassic Park River Adventure. There are daily lockers you can use to safely secure your dry clothes and cell phones until you get off the ride. If you are willing to take on the challenge then you will have a splashtacular refreshing way to beat the heat.
#4 Butterbeer Ice Cream
Enjoy stepping into The Wizarding World of Harry Potter™ – Hogsmeade™ And make sure to enjoy a refreshing Frozen Butterbeer ™ or Butterbeer ™ Ice cream to keep you cool on a hot summer day. You will not be disappointed. They do offer regular ice cream flavors to satisfy the entire family.
#3 Universal Orlando Pools
Did you know if you are staying at one of the Universal On Site Hotels you can stay at one and swim at five? If you are looking to get out of the heat, you can take a shuttle over to the Cabana Bay Beach Resort and enjoy the lazy river.  Or why not take a water taxi over to Lowes Portofino Bay Resort and enjoy a quiet afternoon by the Villa Pool. How about a little excitement tries the Pool at the Hard Rock? So have fun getting out of the sun and into the fun at one of the great Universal on-site hotel pools to keep you cool during the afternoon heat.
#2 Wet n Wild
If you are not lucky enough to be staying on-site at Universal Orlando that is ok.  Did you know you can purchase a multi-day ticket that includes Wet N Wild? Orlando's largest water park! Make sure to experience this iconic water park before their doors close for good, December of 2016.
#1 New Volcano Bay Water Park
Don't be too upset that Wet n Wild is closing, Universal Orlando's next big thing is the Volcano Bay Water Park.  This water park will be located behind the Cabana Bay Beach Resort.
On your next family adventure at Universal Orlando be sure to beat the heat by taking advantage of some of these fun cool tips!
Written by Dawn Caitano – Dawn creates lasting memories by planning your customized vacations all over the world. Not only does she find the BEST accommodations with the BEST value, but she will fill in all the blanks for you, all at no cost to you. Traveling is her passion! Passing that magic on to your family is what fuels that passion!  So call Dawn today to start your next Adventure. Book your next vacation with Dawn at 917-494-5771 or dawn@destinationsinflorida.com