All-Star Sports Resort was the first value resort built on the Walt Disney World property and opened May 1994. There are 1,920 rooms spread out over ten buildings.
If you are looking for a reasonable resort option… but still have each advantage that staying onsite has – then Disney All Star Sports is the place for you!
Do you have any sports enthusiasts in your family? They'll love all of the larger-than-life sports icons. And at the All-Star Sports Resort, bigger is better! You'll find bright, colorful sport-themed art icons… football, tennis, baseball, basketball and surfboards. At one area, giant helmets and megaphones that pretty much cover the stairwells.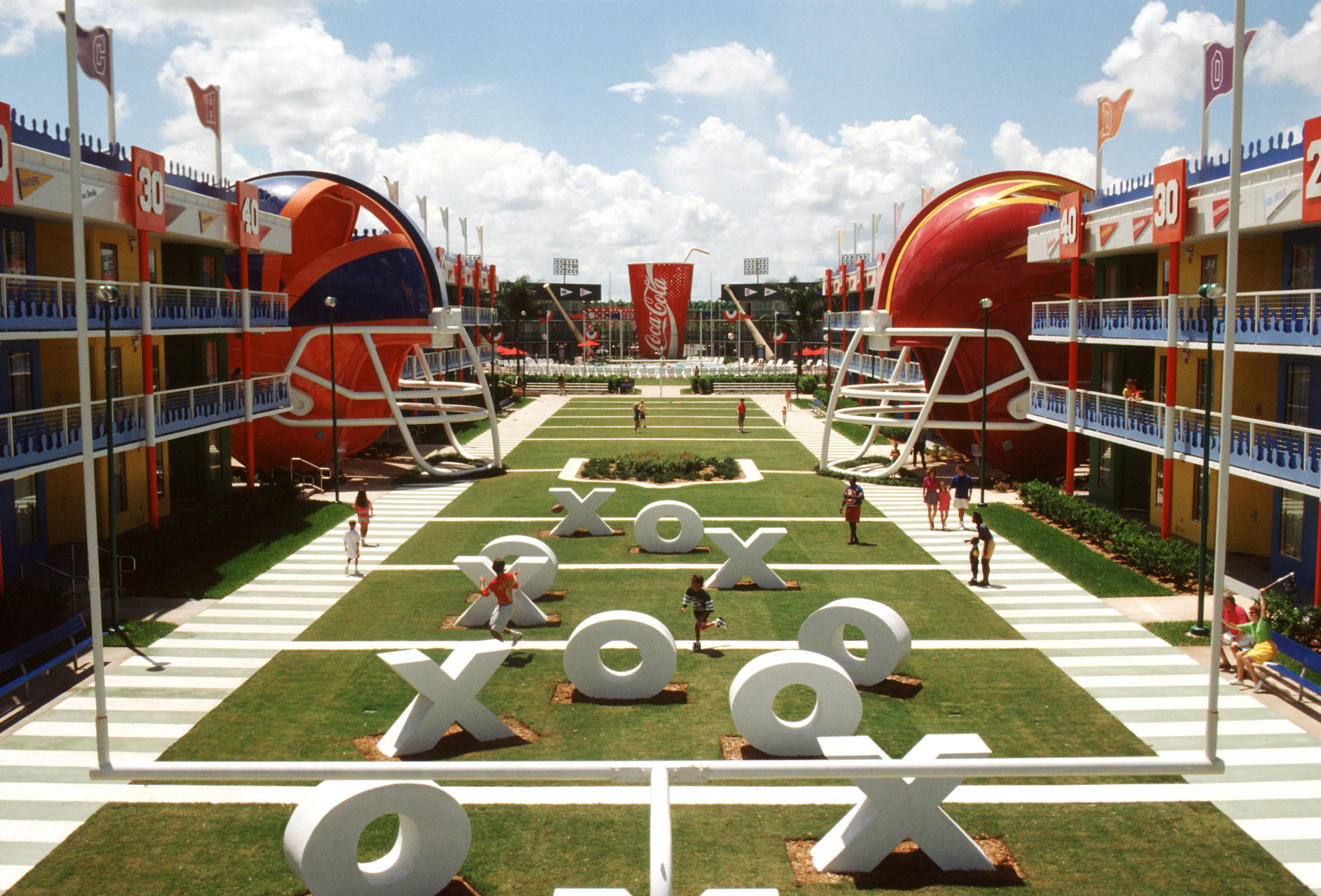 The rooms are about 260 square feet. Your typical room has two double beds (or one king-sized bed), a mini-fridge, small table with two chairs, television, nightstand, telephone, dresser, wall mirror, luggage rack, closet area, and a clock radio. The bathrooms have a single sink and mirror in a vanity area that is separate from the tub. A small wall safe is available to hold any valuables. All rooms are equipped with central air conditioning.
Roll-away cots may be requested; for a $15 per night charge. They also offer bed rails and pack-n-plays. Just give a call to Housekeeping to request one.
Where's the best spot to stay at? Well, if you want to be close to the food court and bus stop, try to request the Surfs Up or Touchdown buildings. But, if you're looking for a little quiet, then Center Court might be a better option for you.
Veronica has planned her family vacations for years.  Now she gets to do it for others, and it's like a dream come true.  She creates lasting memories to the destination of your choice by planning customized vacations.  She focuses on family and family reunion travel to Walt Disney World, Universal Studios, Disney Cruise Line and Sandals & Beaches Resorts.  As well as the Southern United States; like Nashville, Chattanooga, Memphis, Savannah, and Atlanta.  She'll help you find the BEST accommodations with the BEST value, and she will fill in all the blanks… all at no cost to you! She can't wait to pass that magic on to your family.  If you are ready to save on your next vacation, contact Veronica!! Veronica@DestinationsInFlorida.com