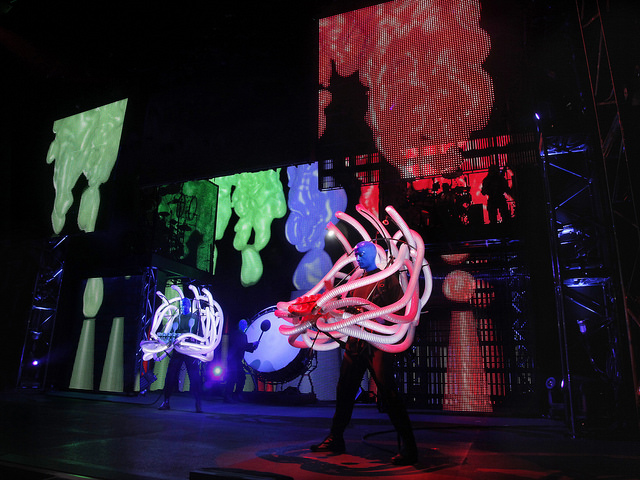 For an evening unlike any other, the Blue Man Group show at Universal Orlando will amaze you. This high-energy, fast-paced show is exceptionally entertaining for all ages.
Blue Man group began about 25 years ago but opened at Universal in 2007. They present shows in several cities, including Las Vegas, New York, and Boston. Over the years, the show has evolved, and new technology has been added. It includes a crazy mix of comedy, music, science, bright lights and drums…lots of drums. Oh yes, it was also a mess.
I wasn't sure what to expect when I attended the show. Yes, I knew the entertainers were painted neon blue, and I heard it was loud, but that was about it. My mind was totally blown away during the hour and 45-minute production. It was like a giant party that kept me captivated and amazed. The show was filled with incredible technology including some rather interesting sound effects. There was fun audience participation with a little dancing and exercise as we batted around the huge, brightly-colored balls. Some might say the show is weird, but I say it was a feast for the senses and utterly amazing.
The Blue Man Group Theatre is located between the main entrance to Universal Studios and the Hard Rock Cafe in Universal CityWalk. Choose from tiered seating, premium seating, and the messy poncho seating area when purchasing your tickets. Seating is also offered for those using wheelchairs. You might also choose the Blue Man Group VIP Experience. It includes the best seats in the house, a theatre tour before the show, goodies and merchandise discounts and a private meet and greet with a Blue Man. Regular tickets discounts are sometimes offered when purchased online in advance.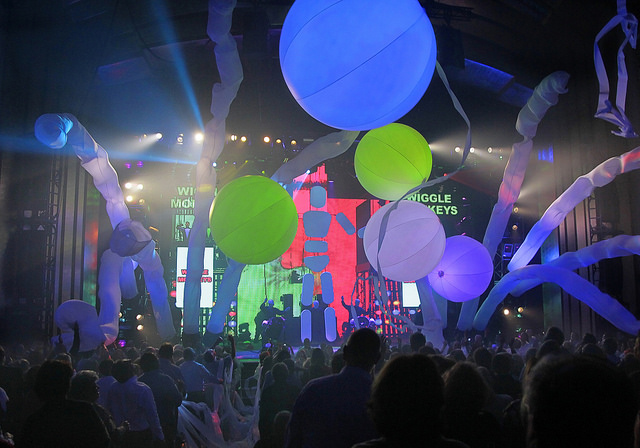 Check out Blue Man Group and enjoy the crazy antics of these incredibly talented performers during your next visit to Universal Orlando. Blue Man Group – the enemy of monotony, the remedy for boredom, promoter of overjoy and elation. I promise that it will be a show that you will never forget.
Written by Sheri Morris, "Main Street Morris" — Sheri is the proud grandmother with a keen eye for detail. She specializes in Disney Travel for adults and RV travel.  Book your next vacation with Sheri at 804 405 5005 or sheri@destinationsinflorida.com.