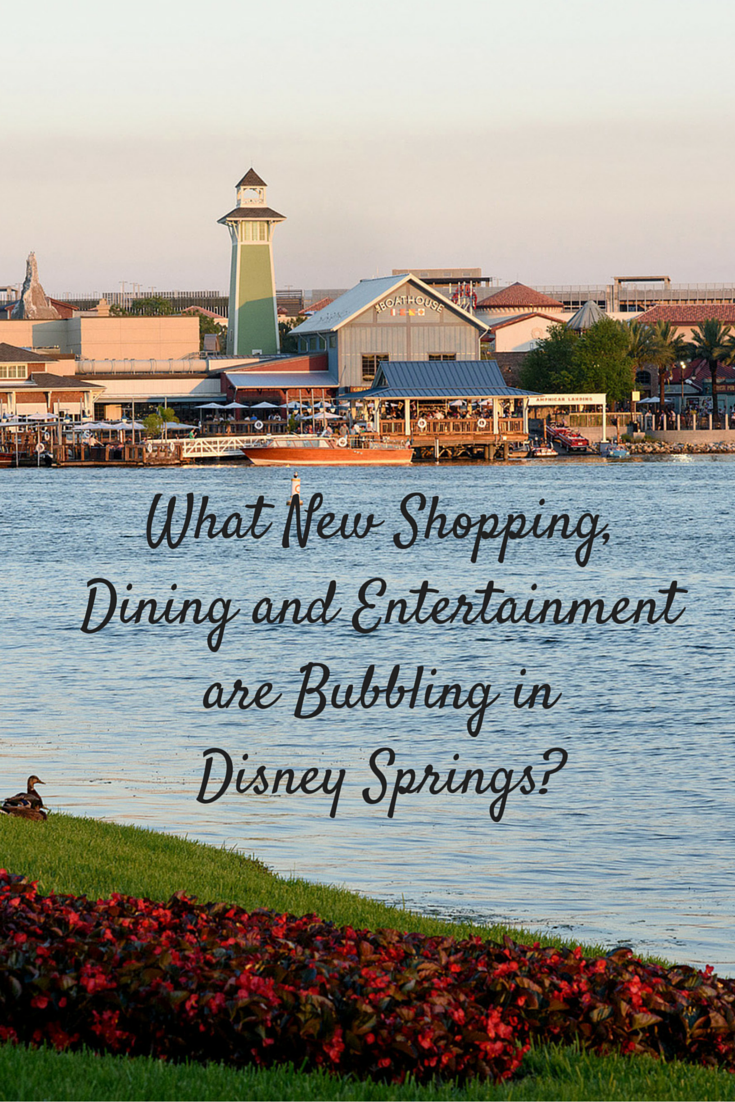 What New Shopping, Dining and Entertainment are Bubbling in Disney Springs?
Wrapped in Florida-inspired, made-for-strolling promenades, arcing footbridges, flowing streams and waterfront charm, Disney Springs treats Walt Disney World Resort guests to an exciting blend of shopping, dining and entertainment with a Disney touch.
By day or night guests can expect a vibrant scene, whether they are shopping world-class brands, enjoying high-quality entertainment, having that special dining experience, pleasure boating on Village Lake or hopping a balloon skyward for spectacular views of Walt Disney World and beyond.
The former Downtown Disney completes a dramatic, multi-year transformation in 2016, renamed Disney Springs and more than doubling – to 150 — the number of shops, restaurants or other venues for guests to explore and enjoy. In creating the largest expansion in its history, Disney planners infused Disney Springs with the same focus on storytelling and attention to detail that are hallmarks of Disney theme parks, resort hotels and cruise ships, creating a welcoming space that only Disney can provide.
That story begins as Florida's did, with bubbling springs and natural beauty that first attracted settlers to the area. Turn-of-the-century waterfront towns sprang up, dotting Florida's landscape. Today's Disney Springs fittingly starts with a clear water stream and fans out to exciting precincts for entertainment, dining, lounging and shopping.
Guests will find four outdoor neighborhoods, each with its own personality:
All-new among the Disney Springs neighborhoods and opening this summer, The Town Center will offer a sophisticated mix of shopping and dining along with a lushly landscaped promenade where guests can relax, refresh and reconnect at the water's edge. Town Center features Spanish "Revival" style architecture, drawing from a rich history of explorers that landed in Florida centuries ago. At the heart of Town Center is The Spring, themed to early Florida settlements. Guests will find Town Center a shopper's haven. Prime retailers such as Anthropologie, LACOSTE, Under Armour, kate spade new york, Sephora and Oakley will call Town Center home. Among dining choices awaiting Town Center guests, Tablas Frontera will serve up gourmet Mexican cuisine on planks (not plates!) from the menu envisioned by celebrity chef Rick Bayless, a six-time James Beard Foundation winner.
A colorful and thriving district called The Landing offers inspired dining and breathtaking waterfront views. High-quality retailers including Erwin Pearl for fashion jewelry and Havaianas for sandals are found along its lantern-lined byways. Grab a signature gelato at Vivoli Gelateria, dine off a shipshape menu at The BOATHOUSE or enjoy, at Morimoto Asia, Pan-Asian cuisine from celebrity chef Matsaharu Morimoto, of Iron Chef fame. Coming later this spring: STK Orlando, a fine dining experience set in chic, contemporary surroundings.
The family-friendly Marketplace will continue to delight guests of all ages by combining new experiences such as an over-the-water pedestrian causeway, along with classic Disney favorites, including an expanded World of Disney store.
The West Side The West Side provides an exuberant atmosphere with lively entertainment, retail and dining along with a series of new elevated spaces that provide both shade and an overlook to the activity below. From Cirque du Soleil to iconic restaurants to colorful food trucks to bowling with a stylized twist at Splitsville, West Side offers something for everyone. There is even the opportunity to lift off in a tethered balloon. Characters in Flight rises from the banks of Village Lake for eye-popping, 360-degree views (on a clear day you can see Florida's east coast).
Thanks to new slot-smart parking decks where green lights indicate available spaces, parking is convenient to the entire Disney Springs scene – and free. Valet parking also is available.
Disney Springs is easily accessed from I-4, Central Florida's major interstate, and connected to the rest of Walt Disney World Resort by motor coach and watercraft.