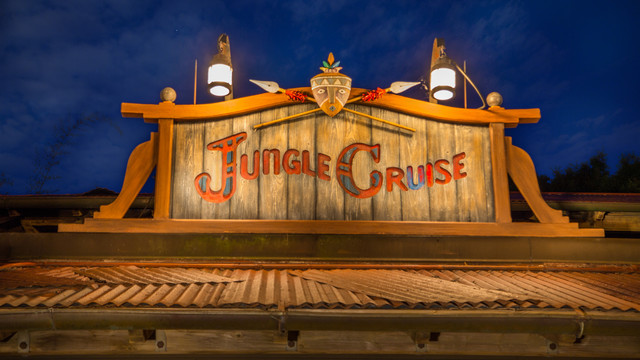 "You know the difference between a Captain and a Skipper, don't you? The Captain goes down with the ship…"
Travel on the world's most exotic rivers! See dangerous animals, up close and personal! Be prepared for many surprises along the way. Well, kind of… At Magic Kingdom's Jungle Cruise, located in Adventureland, gives you all that and more!
You know you're in for a good time when you see boat names like Amazon Annie, Congo Connie, and Zambezi Zelda. And don't forget your trusted skipper at the helm, all set to guide you through the dangerous waters of the four "rivers" you'll be passing.
First stop, the Amazon in South America, the Congo in Africa, the Nile in Egypt, and, last but not least, the Mekong River in Cambodia in Southeast Asia. Along the route, you'll encounter a variety of, at times, not-so-realistic audio-animatronic animals and the natives of those areas.
Beware! When you pass the shrunken head salesman… don't let your skipper convince you to trade two of his heads for one of yours!
This ride is for everyone. However, there is one darkened tunnel you will pass through. So if you have little ones, you may want to try this ride during the day.
Don't leave the Magic Kingdom without stopping at enjoying this ride.
Veronica has planned her family vacations for years.  Now she gets to do it for others, and it's like a dream come true.  She creates lasting memories to the destination of your choice by planning customized vacations.  She focuses on family and family reunion travel to Walt Disney World, Universal Studios, Disney Cruise Line and Sandals & Beaches Resorts.  As well as Southern United States; like Nashville, Chattanooga, Memphis, Savannah, and Atlanta.  She'll help you find the BEST accommodations with the BEST value, and she will fill in all the blanks… all at no cost to you! She can't wait to pass that magic on to your family.  If you are ready to save on your next vacation, contact Veronica!!