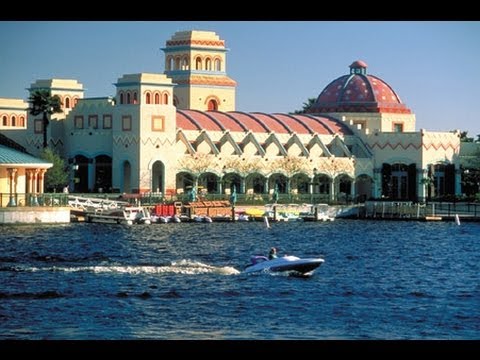 Disney's Coronado Springs Resorts invokes the romance of Spanish Colonial Mexico at this enchanting Resort hotel. This resort is located in the Animal Kingdom area of Walt Disney World. Find your mythical city of gold in a Southwestern-themed haven of brightly colored casitas, rustic ranchos and beachfront cabanas encircling a glimmering 22-acre lake. Each accommodation provides a unique escape and welcoming home away from home. This resort also has a full-service spa and fitness center.
The pool complex is known as the Dig Site Pool. The pool at Coronado Springs has a huge water slide. You can worship the sun at an awesome aquatic area which was built around a 50ft replica of a Mayan pyramid. You watch the water stream down the steps of this pyramid which flows into the Lost City of Cibola pool, or you can plunge into the pool on the spitting Jaguar Slide. This hotel also has the largest outdoor hot tub that can fit 22 people.
In keeping with the Mexican and Southwestern Flare, you can dine at the Maya Grill, which serves both American and Traditional Mexican dishes. The dining has accents of Mayan motifs of fire, sun and water. Maya Grill also has great desserts that you can't pass up after a wonderful meal.
The various amenities that are offered to guests at this resort where you can enjoy a campfire as you roast marshmallows by a crackling fire. You can watch beloved Disney films at complimentary outdoor screenings near the Lost City of Cibola pool. There are volleyball courts and jogging tracks located at this resort. The children can climb, slide and play on an archaeologically themed playground near the Dig Site complex and of course, the children can play in the Iguana Arcade.
Barbara Roach is your Personal Travel & Cruise Concierge. I have been organizing travel for years. I know where to find the best deals, what constitutes "value" and how you can make your vacation dollar stretch, especially when it comes to planning travel with kids.??Regardless of your destination, my goal is to exceed your every expectation and deliver you to a most enchanting vacation. We're here for you too – just a phone call away; before, during and after your travel.
For information concerning Disney or any other destination, please contact me at 401-323-1294 or email me at barbararoach@destinationsinflorida.com