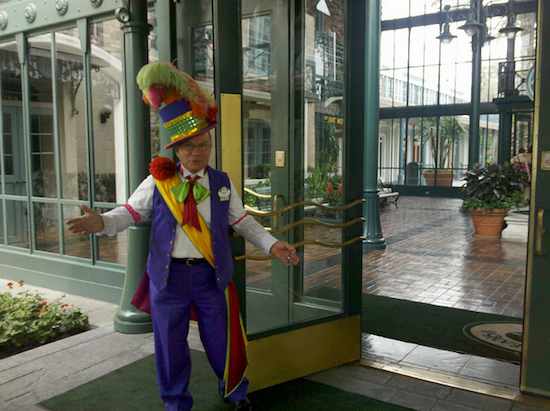 Designed after a historic New Orleans district, Port Orleans French Quarter at Walt Disney World has a charming appeal for all ages. With a combination of a carnival atmosphere appealing to children, a Mardi Gras theme for adults and luxurious, romantic architecture and furnishings to please couples, this resort is a winner.
Port Orleans French Quarter is one of the smallest resorts on Disney property with 1008 rooms in seven three-story buildings. A 'sister' resort next door, Port Orleans Riverside has more than twice the number of rooms. The small size is especially appealing to many senior citizens who don't want to feel 'lost' in a huge resort. The buildings and grounds are especially well kept. There are pink and blue guest buildings with wrought-iron filigree, shuttered windows and old-fashioned lamp posts. The landscape is dotted with colorful figures, such as jesters and alligators that are perfect for photo opportunities.
The food court called Sassagoula Floatworks and Food Factory is decorated with Mardi Gras parade props featuring standard fare as well as Cajun specialties such as jambalaya and gumbo. Authentic beignets are a special treat at the bakery and can be addicting. Pizza delivery is also offered. A drawback of this resort is that it lacks a full-service restaurant. However, Boatright's Dining Hall at Port Orleans Riverside is within walking distance. Live entertainment is a big hit at Scat Cat's Club on selected evenings.
One of the great things about this resort is the swimming pool and Jacuzzi. The pool features a huge dragon slide and a playful Alligator band that shoots water. There is also a nice playground for kids as well as an arcade. An interactive water play is for children is scheduled to open in early spring, 2016. Recreational opportunities include horse drawn carriage rides, a Cajun campfire, movies under the stars, fishing and the Bayou Pirate Adventure at the Riverside Marina.
Transportation is available by water launch service to Disney Springs and by bus to other locations. Bring your family to the Disney version of the "Big Easy" and enjoy a vacation to remember.
Written by Sheri Morris, "Main Street Morris" — Sheri is the proud grandmother with a keen eye for detail. She specializes in Disney Travel for adults and RV travel.  Book your next vacation with Sheri at 804 405 5005 or sheri@destinationsinflorida.com.