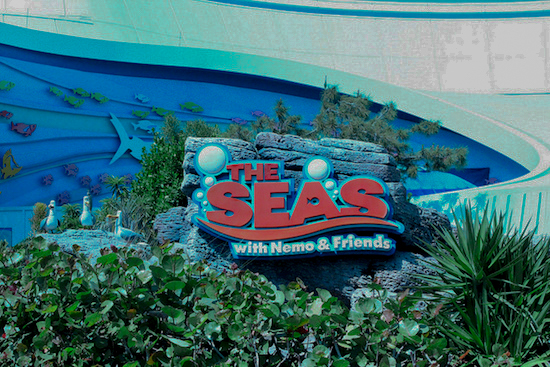 Epcot is not always seen as the most family-friendly park for families with little ones, but there is plenty for kids to enjoy at Epcot from the Kidcot Fun Stops to family rides. There's so much more to Epcot than exploring the World Showcase that your whole family is sure to love. Here is our list of the top five family rides at Epcot:
The Seas with Nemo and Friends:

This is the perfect ride for any fans of Finding Nemo (and soon to be Finding Dory). You get to board a clamshell and dive down into the big blue world to see Nemo and his friends. You will re-live his journey and then have the chance to explore huge aquariums with coral reefs, dolphins, manatees, sharks, and other sea life.

Living with the Land:

This twenty-minute boat ride takes you through the different greenhouses at Epcot, which grow plants and crops that are harvested to feed guests throughout restaurants all over Epcot. You just may be able to spot a hidden Mickey or two on your ride, too.

Soarin':

Although you do have to be at least 40 inches tall to ride Soarin', this is a family favorite for kids of all ages! My son has loved this ride since his third birthday when he was big enough to ride for the first time. Previously, this ride took you soaring over California, but should have new destinations to see after the refurbishment is complete this summer.

Gran Fiesta Tour Starring The Three Caballeros:

This is a slow moving boat ride through the Mexico pavilion that usually has a very minimal wait time. Your kids will recognize Donald Duck as he stars in The Three Caballeros.

Journey Into Imagination with Figment:

This is a classic attraction for Disney fans who have been visiting for a while. You get to journey into the land of imagination and learn about the five senses with Figment in this colorful, musical ride.
What do you think is the best family ride at Epcot?
Written by Siera Duiser: Siera Duiser is a travel agent with Destinations in Florida, an Authorized Disney Vacation Planner. She loves helping plan magical vacations at no cost to you. Contact Siera to book your next vacation at siera@destinationsinflorida.com or 734-771-1290. You can also follow her on Facebook and Twitter.