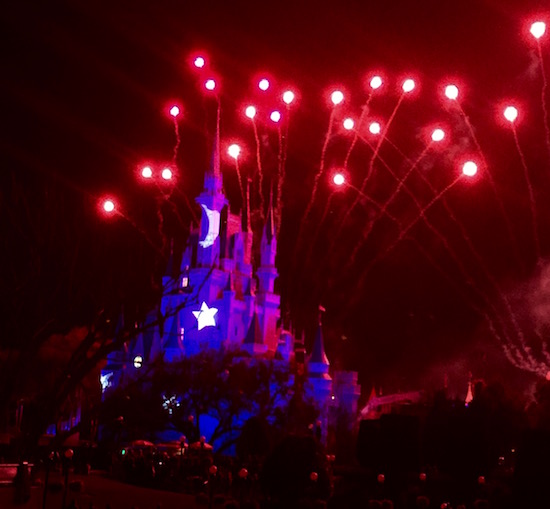 Your visit to Disney's the Magic Kingdom would be incomplete without at least one viewing of Wishes a Nighttime Spectacular Fireworks Show. I try to see it more than once, but I won't check out of my resort until I've seen Wishes.
That, of course, begs the question about where and how to see Wishes the best way possible. I'm sure that if you use any or all of these tips, you'll have a great viewing of the show!
Tip #1 – Don't Photograph or Video the show
I am someone who takes pictures and videos of everything. It makes my family crazy as I stop once again to take a picture of that unique looking rock on the side of the road… However, I have finally learned to stop watching Fireworks through the lens of my phone, camera or video camera. Not only is it work to do these things, but it takes away the enjoyment of the moment. I will also mention briefly it drives others around you crazy to watch the fireworks through your tablet.
Tip #2 – Go Early, Stay Back…
Everyone wants to head right for the hub and stake a spot out, or worse come 4 minutes before the show and try to find a great location where others already are. Instead, save yourself the trouble and go early, but not to the hub, head down to the end of Main Street and stake out a nice spot to take in the entire fireworks show. I try to be just up from Casey's Restaurant for a prime viewing location. The closer you are to the castle, the less you'll be able to see.
Tip #3 – View From Contemporary Resort
It seems that many people don't consider viewing options outside of the Magic Kingdom. There are so many different ways to view the fireworks. My favorite is to book a reservation at California Grill, located atop the Contemporary Resort. Book your reservation so that you will be in the restaurant during the fireworks show and you can see them from the patios located on either side of the restaurant. To do this viewing option, plan on booking your dining reservation exactly 180 days in advance.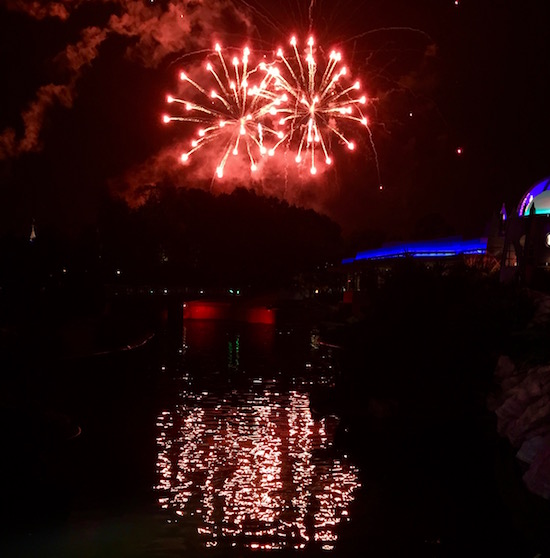 Tip #4 – View from Seven Seas Lagoon
There are some different ways to see the fireworks from the lagoon. My favorite is the Pirates and Pals Fireworks Dessert Cruise. You meet up at Contemporary Resort and enjoy a nice dessert buffet with Captain Hook and Mr. Smee before boarding your own "Pirate boat" with a scallywag guide who will lead you in jokes, songs and trivia throughout your sailing. It is a great way to end a perfect day!
Tip #5 – Don't Leave Park Right After Fireworks!
It seems everyone makes a beeline for the exit right after the show is over. In my opinion, when going with the mob to the exit you end up losing all the emotions and feelings you just had from the fireworks show. Instead, step to the side out of the way of traffic and wait for the main crowd to leave. Your patience will be rewarded with some quieter shopping experiences, as well as a smaller second Castle show right as the park shuts down for the night… You won't be sorry you stayed for it.
Daniel is an agent with Destinations In Florida travel agency and travels as often as possible. His goal is to ensure that all of his guests receive the best vacation planning possible. Reach out to him at anytime via email or Facebook.
For more Top 5's, vacation enjoyment tips, and updated travel information, make sure to visit back often.