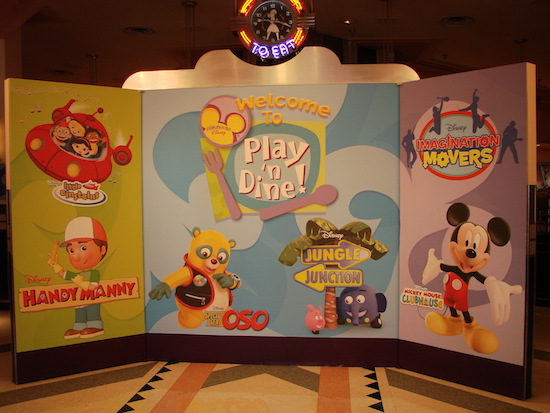 As you probably know, when you vacation in Orlando, there are many places to eat. As a local, I am often asked, "What is the best place to eat and see the characters?" The reality is, it depends on which characters your family wants to see. So, here I have listed the Top Five Character Meals in Orlando.
Chef Mickey – Chef Mickey is often thought of as the best character meal. If you are at Disney for a short period of time or just passing through, Chef Mickey's would be the best fit for you. Located at the Contemporary Resort, this is one of the few character meals that does not require admission to a theme park. It is a very extensive buffet that serves the world famous Mickey Waffles. They serve Breakfast, Brunch, and Dinner, and as you eat, the characters visit your table. Typically, the characters present are Mickey, Minnie, Pluto, Goofy, Daisy and Donald (although these are subject to change daily). The prices range from around $35.00-$52.00 (depending on the season) for adults and $19.99 for children. When you choose this character meal, I would give myself two hours to really take your time and enjoy your time there. It is also important that you book this reservation far in advance as it often books up quickly.
Superstar Character Breakfast at Universal Studios Florida – This Universal character breakfast includes characters from Dora, Sponge Bob, and Despicable Me. Along with the breakfast and the characters, you also get VIP viewing for the Parade. Located at Café LaBamba, your meal includes a plated breakfast of your choice. The price is $25.99 for adults and $12.99 for kids. Park admission is required and not included.
Dine with Shamu – This character breakfast is located at SeaWorld Orlando and allows you to have dinner, attend a private show about how SeaWorld cares for their animals and eat a fully sustainable meal. The meal includes a large all you can eat buffet of sustainable seafood and organic choices as well as kid friendly choices. You must have park admission to Sea World, and it will cost around $30.00 per person
Hollywood and Vine – This is probably my favorite meal for Breakfast and Lunch for small children. Located at Disney's Hollywood Studios park, this is an interactive buffet that will get your children up and moving with their favorite characters. During your meal, you will be greeted by Handy Manny, Jake from Jake and the Neverland Pirates, Princess Sophia, and Doc McStuffins. About every 15 minutes, music will begin to play, and your child will be invited to come down to the front and dance with their favorite characters to well-known Disney Junior songs. Lunch will cost your around $27.00 for adults and $16.00 for children. When dinner is served, the characters change to Minnie and her friends and are usually themed based on the time of year it is. For instance, they have a Silver Screen theme for awards season and a Halloween theme for September and October. Characters will come to your table for pictures and autographs. The cost for the dinner is $47.00 for adults and $28.00 for children.
Akershus – While most people flock to eat at Cinderella's Royal Table, I prefer Akershus located in Norway in Epcot's World Showcase. Fashioned after a Norwegian castle, the food is phenomenal. The restaurant is filled with princess interactions. Typically the princesses present are Snow White, Belle, Cinderella, Ariel and Sleeping Beauty. However, there have been reports of Mulan and Tiana making guest appearances as well. They serve breakfast, lunch, and dinner and offer breakfast reservations up to an hour before park opening. The cost for this meal is approximately $52.00 for adults and $32.00 for children.
Kristi Gregory lives in Orlando with her husband and two boys.  Who better to plan a trip to Universal or Disney than a local who visits the parks multiple times a week?  Her clients enjoy insider tips, personalized itinerary planning, and attention to every detail of your trip.  Call Kristi at (859) 229-4840  or email to start planning your next vacation.