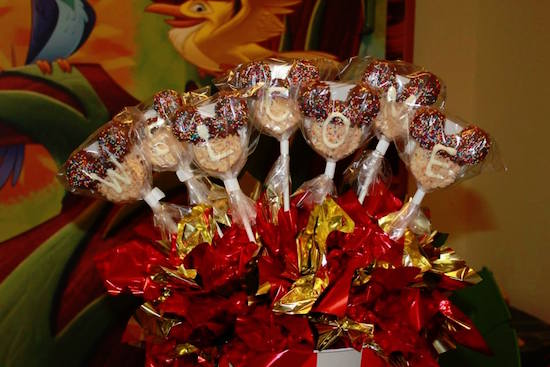 One of the best parts of a Walt Disney World vacation is the opportunity to try some delicious snacks. While Rice Krispie Treats are a simple treat that anyone can make at home, Disney puts a little magic into these to make them extra special.
There's nothing better than a snack shaped like Mickey, and you will find them in all shapes and sizes at many different locations throughout the Disney parks and resorts. If you visit Goofy's Candy Company at Disney Springs, you can create your very own customized Rice Krispie Treats with toppings of your choice.
The options for this iconic snack are seemingly endless as they come in all shapes and sizes. Some are dipped in chocolate or bright, candy coating, drizzled with caramel or colored frosting or sprinkled with glittery goodness. You'll see toppings galore including, crushed candy or cookies, m&m's, peanut butter chips, nuts, chocolate chips and more. During Holiday seasons throughout the year, the adorable treats are available in different themes. You can even purchase pre-packaged Rice Krispie Treats using a snack credit when using a Disney Dining Plan and take a little magic back home.
My favorite place to get one of these goodies is at the Confectionery on Main Street in Disney's Magic Kingdom Theme Park. Quite often, you can watch as they prepare them in the open kitchen. If you happen to be there at the right time, you may even get a free sample.
Be sure to satisfy your sweet tooth by trying a Rice Krispie Treats during your next Walt Disney World vacation. You'll fall in love…guaranteed.
Written by Sheri Morris, "Main Street Morris" — Sheri is a proud grandmother with a keen eye for detail. She specializes in Disney Travel for adults and RV travel.  Book your next vacation with Sheri at 804 405 5005 or sheri@destinationsinflorida.com.