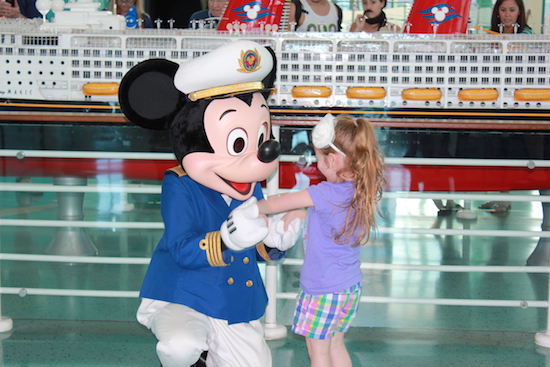 Anyone who loves Disney knows that they never do anything unless they can do it in the most magical and memorable way. The Disney Cruise Terminal at Port Canaveral is no exception. Your Disney Cruise Line memories start way before you ever step foot into your home at sea. Compared to other cruise terminals you will find this one to not only function in a quick and painless manner but also be filled with Disney magic throughout. One perk our family always enjoys is that this is the Disney Cruise Terminal, so you do not have to stress about if you are going to the right terminal or being in massive amounts of people. Because of this, your amount of time spent in line is cut drastically as well as just an overall more memorable experience that you will not mind thinking back on. As soon as you enter the terminal you will pass through security similar to that of airports and then you will be greeted by the friendliest Disney Cruise Line Cast Members as you enter the second floor of the cruise terminal and complete your check-in.
Once you have finished checking in you will be able to explore the terminal which is much more than just a holding room for those waiting to board. You will find areas with comfy seating, TV's with Disney classic movies playing as well as information on the cruise and cruise line. Additionally, you will be able to check-in the younger Disney cruisers and make sure they are all set up to have an amazing time onboard your ship. Before you board make sure to start your cruise off right by getting your family photo with Captain Mickey in the cruise terminal!
Written by Kari O'Dell:  Kari creates lasting memories by planning customized vacations all over the world.  Not only does she find you the BEST accommodations with the BEST value, but she will fill in all the blanks for you, all at no cost to you.  Traveling is her passion!  Passing that magic on to your family is what fuels that passion!  If you are ready to save on your next vacation book your next vacation with Kari at 434-609-2370 or at kari@destinationsinflorida.com.