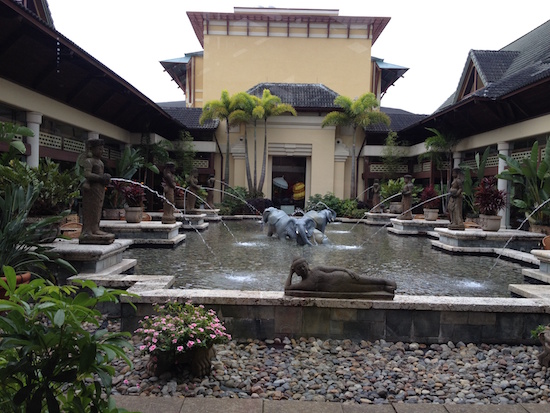 Loews Royal Pacific is a personal favorite for me while visiting Universal Orlando. From the minute you walk up the wooden plank bridge, across a quiet river and into the stunning lobby you will feel as if you truly are at a resort in the South Pacific. The décor is very much set back in a time of elegance and adventure, beautifully colorful umbrellas greet you to shield from the afternoon rain, and exquisite hand carved wood throughout the resort. The best part of all, the center of the lobby, a stunning atrium filled with foliage from the islands along with carved Buddhas and elephants—so peaceful.
To the left of the lobby is where guests can check in along with plenty of seating for those weary from their travels as well a unique gift shop. To the right is one of the restaurants, Orchid Court Lounge that serves breakfast in the morning and sushi at night—be sure to check out the teak wood furniture, truly something special. As you look out the windows of this restaurant, you will see Royal Pacific's amazing pool.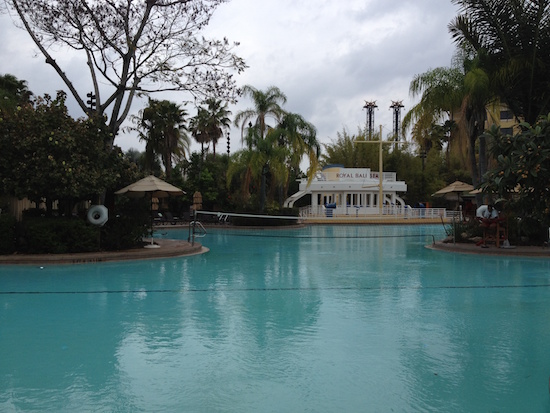 Royal Pacific's pool is lagoon style with a sandy beach, tropical backdrop and plenty of activities such as pool basketball, hula hooping contests and even a "dive-in" movie where you can float on tubes and watch a movie on their own outdoor movie screen. When you need a snack or a fruity beverage head over to the Bula Bar & Grille for poolside treats. The pool area also offers two hot tubs, a beach volleyball court, an interactive play area for children and private cabanas you can rent.
The rooms at Royal Pacific have recently been renovated in 2015; all the rooms have a very modern Pacific feel—deep purples & silver, very cool and chic. Two queen beds, a Keurig, and modern bathroom amenities. You also have the choice to upgrade to the Club level or surprise the kids with a Jurassic Park themed family suite—may options for your stay at Loews Royal Pacific.
Next time you are planning a trip to Universal Orlando be sure to add Loews Royal Pacific to your resort list—you will not be disappointed. Happy Travels.
Written by Regina Cwiklinski, Travel Agent with Destinations to Explore. My goal is to make sure everyone of my guests has the most magical vacation. If you have further questions I can be reached at: regina@destinationsinflorida.com