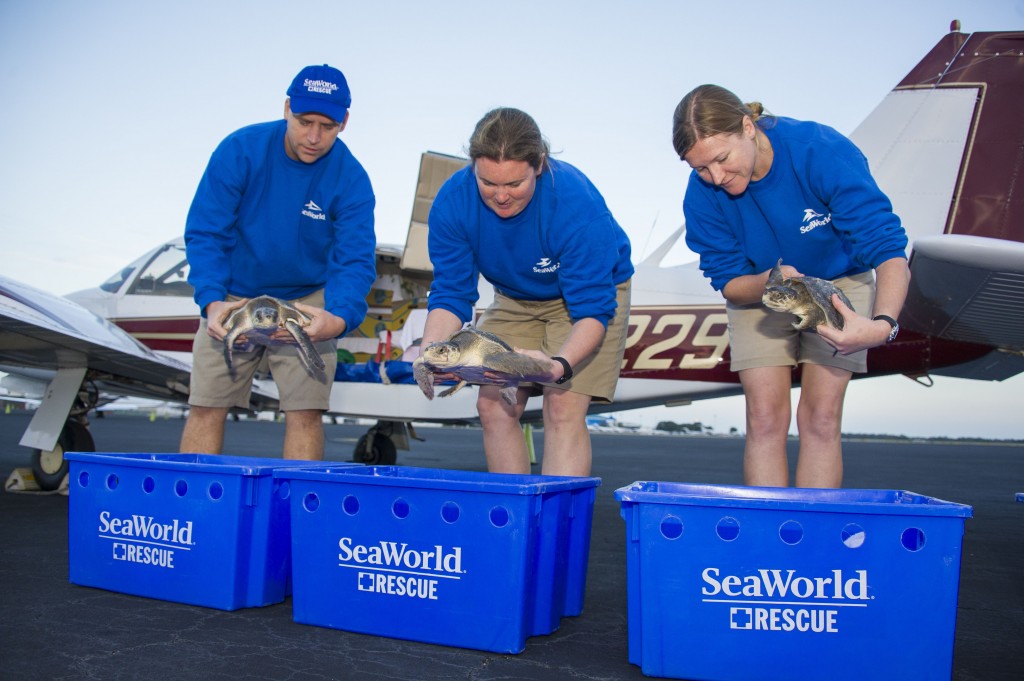 Twenty-four of the world's most endangered sea turtles were flown from Massachusetts to Florida yesterday for life-saving rehabilitation by SeaWorld experts. The critically debilitated, cold-stunned turtles are part of the overwhelming amount of stranded and endangered sea turtles impacted by the region's oncoming winter weather, and were flown to Orlando courtesy of the United States Coast Guard.
The 24 juvenile sea turtles flown in on Thursday were originally rescued by the New England Aquarium and volunteers of the Massachusetts Audubon Sanctuary at Wellfleet Bay on Cape Cod.  The sea turtles were re-warmed and stabilized by the New England Aquarium at their marine animal hospital in Quincy, Mass. until they were ready for transport.
Sea turtle experts at SeaWorld spent much of the night conducting full health examinations on each turtle to determine health status. The goal is to provide a stable environment for the sea turtles to regain their strength, and ultimately be returned as soon as possible.
HISTORY REPEATING:
This week's rescue is a repeat of history, as last winter (November 2014) SeaWorld Orlando helped care for 72 cold-stunned Kemp's ridley sea turtles rescued in New England under similar circumstances.  All of these turtles were cared for by SeaWorld and successfully returned to warmer ocean waters once they were rehabilitated.
On Saturday, January 16, the nationally broadcast Sea Rescue™ will air its 100th original episode featuring the record-breaking turtle cold stunning event in New England from November 2014 to January 2015 that involved hundreds of turtles being flown south for rehabilitation.    This special episode showcases the partnership between SeaWorld and other organizations coming together to save these endangered turtles.
Shell Shocked, the story of the New England cold stun turtles, airs Saturday, January 16 and Sunday, January 17on ABC affiliates.  Check your local listings.
For more than 50 years, SeaWorld Parks & Entertainment has helped animals in need – ill, injured, orphaned or abandoned, with the goal of returning them to the wild. More than 27,000 animals have been rescued by the expert animal rescue team that is on call 24 hours a day, 7 days a week.  If you see an injured marine animal, you can help by calling the FWC hotline at (888) 404-3922 or by dialing *FWC on a cellular device.