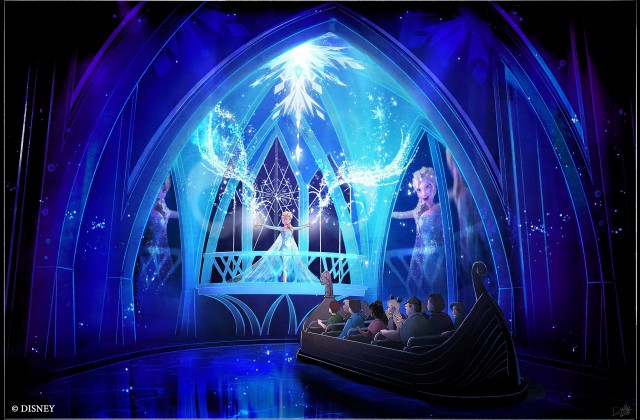 From popular film franchises Frozen and King Kong to Orlando's tallest, fastest and longest roller coaster, the theme park capital of the world is a destination where unique experiences mix with activities specifically for kids and families.
While Orlando has long been known as home to seven of the top theme parks in the world, Disney, Universal and SeaWorld constantly evolve each year with one-of-a-kind attractions, resorts and retail, dining and entertainment complexes.
With vehicles diving into movie magic and immersive themed environments, Orlando's newest openings set the stage for another year of millions of unforgettable guest experiences that can only be found in Orlando.
Things to Do in Orlando in 2016
• Walt Disney World Resort will complete a multi-year transformation of Downtown Disney into Disney Springs. Featuring an eclectic and contemporary mix from Disney and other noteworthy brands, this new expansion will double the number of shops, restaurants and other venues for guests to explore, to more than 150 establishments. The new area will include already announced restaurants:
• The Edison, similar to its sister location in Los Angeles, is the third new venue announced to open at Disney Springs. With a theme that centers around a 1920s-period electric company with live entertainment, classic American food and craft cocktails, the industrial gothic space will have 35-foot ceilings and a number of themed areas.
• Frontera Fresca also opens at Disney Springs, the creation of celebrity Chef Rick Bayless, a six-time James Beard Foundation award winner. Known for his authentic Mexican cuisine, Bayless' menu includes specialties such as hand-crafted tortas, tacos, salads, fresh-made guacamole and classic Mexican braised meat entrees, all crafted with his time-honored recipes.
• Homecoming: Florida Kitchen and Southern Shine is celebrity Chef Art Smith's new restaurant opening in summer at Disney Springs. The James Beard Foundation award winner was born and reared in the town of Jasper, Fla., and after 25 years of preparing award-winning meals for celebrities and heads of state and appearing on television, he is making Florida his home once again. The rustic-chic restaurant will feature Southern classics and whimsical cocktails, punches and coolers.
• STK planned to open in early in the year, an upscale steakhouse that blends two concepts into one-the modern steakhouse and a chic lounge. Features include a live DJ, high-energy atmosphere and a sleek environment designed to encourage guests to interact and mingle.
• Universal Orlando Resort announced a new groundbreaking attraction opening in summer at Universal's Islands of Adventure. "Skull Island: Reign of Kong" will honor one of the most monumental figures in movie history, King Kong. Guests will board large vehicles and explore ancient temple structures while encountering hostile natives and fending off unspeakable terrors.
• SeaWorld Orlando announced plans for Mako, a brand new 200-foot-tall coaster opening in summer. Named for one of the ocean's fastest known sharks, it will be Orlando's tallest, fastest, and longest roller coaster, reaching speeds of 73 mph as it races along 4,760 feet of steel track. SeaWorld's new hypercoaster will be the centerpiece of the newly themed two-acre plaza. The surrounding realm will be fully shark themed, providing guests with the opportunity to learn about the impact humans have on sharks and why these animals are critical to the environment.
• Universal Orlando Resort and Loews Hotels & Resorts have announced plans to build the Loews Sapphire Falls Resort. It will be the fifth onsite hotel at Universal Orlando Resort, featuring 1,000 rooms and suites with a casual Caribbean theme, built around a lagoon and towering waterfall. The resort is expected to open in the summer.
• Epcot guests will be able to visit the kingdom of Arendelle when the highly anticipated attraction "Frozen Ever After" opens in the Norway Pavilion. The family adventure welcoming guests to the magical world of "Frozen" will feature the popular story of the royal sisters, hit songs and new technology for an icy trek that is sure to warm hearts. Once onboard their boat, guests will visit Arendelle for the Winter in Summer Celebration.
• On Soarin' Around the World guests on board the popular Soarin' attraction will journey to far-flung lands and fly above some of the world's most unique natural landscapes and man-made wonders when the new Soarin' Around the World makes its debut at Epcot.
• Sunset Kilimanjaro Safaris, the popular Kilimanjaro Safaris attraction at Disney's Animal Kingdom theme park will be extended for a new nighttime adventure. Guests will travel through the African savanna amid the magically extended orange glow of the setting sun and discover two species new to the attraction: African wild dogs and hyenas.
• "Rivers of Light" is an innovative experience unlike anything ever seen in a Disney park, combining live performances, floating lanterns, water screens and swirling animal imagery. "Rivers of Light" will magically come to life on the natural stage of Discovery River, delighting guests and truly capping off a full day of adventures at Disney's Animal Kingdom theme park.
• "The LEGO® MovieTM 4D A New Adventure" is premiering at LEGOLAND® Florida Resort on Jan. 29. The new 4D animated film will feature the popular characters from The LEGO® MovieTM and use elements such as wind, water, smoke and special lighting effects. The larger-than-life experience will bring the film's main characters, Emmet and Wyldstyle, back together with their friends for another awesome adventure.
• Kennedy Space Center Visitor Complex announced the addition of a new attraction, Heroes and Legends. Heroes and Legends will feature the U.S Astronaut Hall of Fame and showcase the heroism of America's early space pioneers by inviting guests to vicariously experience the thrills and dangers of America's earliest missions through high-tech elements and special effects, including simulated holograms and augmented reality.
• DoveCote in downtown Orlando is the next project for James Beard nominated chefs, James and Julie Petrakis, who also own Winter Park's Ravenous Pig, Cask & Larder and Swine & Sons, set to open in spring. A twist on the Classic French brasserie, Chef Clayton Miller, a past winner of a "Best New Chef" award from Food & Wine magazine, who also worked under Thomas Keller at French Laundry, will oversee the kitchen.
• Cask & Larder at Orlando International Airport. Another expansion for the Petrakises, the airport outpost for the popular Winter Park restaurant that was named one of Esquire magazine's Best New Restaurants in America in 2014, will open in the summer. The first restaurant at the airport to specialize in seasonally driven cuisine and locally sourced ingredients.
These are just a few of the things to do in Orlando in 2016!