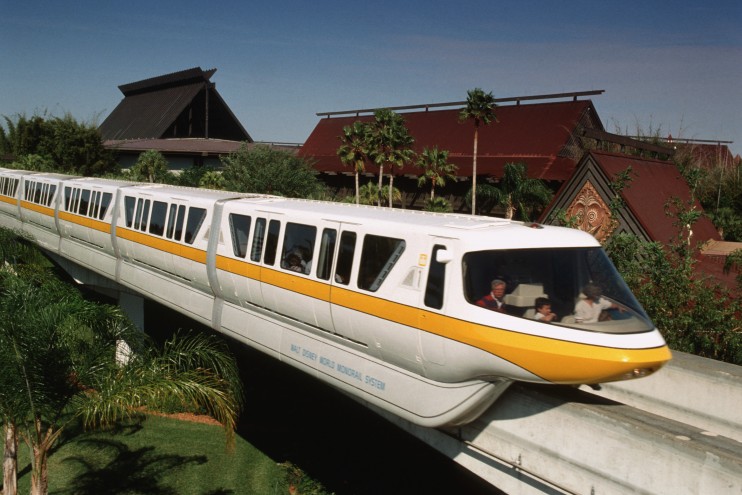 Disney World Pictures:  Disney Monorail
Aside from Cinderella Castle and Epcot's Spaceship Earth, few attractions are more iconic to Walt Disney World than the monorail. Though it is primarily a mode of transportation around the World, the monorail can be an attraction in itself. Who doesn't love to hear that safety announcement on board – Please stand clear of the doors. Por favor manténgase alejado de las puertas.
It's even something you can do for free on a day when you don't have park passes. Ride the monorail through some of the deluxe resort hotels and hop on and off as you like. My favorite part is heading to Epcot. You actually travel above some of the park on your way into the station, giving you a very special vantage point of the park.
The monorail has been open at Walt Disney World since day one, connecting the Ticket and Transportation Center with several hotels and the Magic Kingdom. A separate line was built to Epcot when that park opened. It may not be the fastest form of transportation around the World, but it is one of the most fun and unique. A trip to Disney is not complete for many until after a monorail ride.
Now, who's with me in wishing that Disney will someday soon connect all four parks with the monorail?
Want to experience the monorail for yourself? Laura can help! Laura creates lasting memories by planning customized vacations all over the world. Not only does she find you the BEST accommodations with the BEST value, but she will fill in all the blanks for you, all at no cost to you. Traveling is her passion! Passing that magic on to your family is what fuels that passion! If you are ready to save on your next vacation, book with Laura at Laura@DestinationsInFlorida.com.