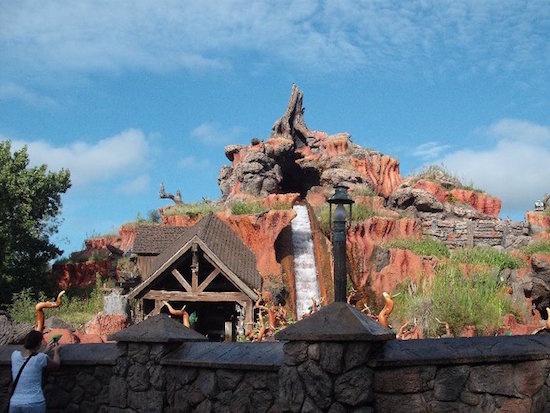 Disney World Pictures:  Splash Mountain
Let's take a "Photo Friday" trip into Frontierland in the Magic Kingdom. As you make your way past Pecos Bill Café and go around the bend, you start to hear screams of delight. Now, you look up and see one of the best rides in all of Magic Kingdom… also known as Splash Mountain.
This is one ride and attraction that embodies all the Disney magic you can imagine. From the theming, animatronics, lots of laughter, the excitement of a thrill ride… and of course, as in true Disney fashion, a happy ending. Based on Walt Disney's 1946 classic "Song of the South", Brer Rabbit is followed by Brer Fox and Brer Bear through twists, turns and swamps throughout the Briar Patch until he finds his way to his Laughin' Place.
A great ride for the whole family. Definitely a 10 out of 10… and a "Must Do" for our family!
Tips: Since this is one of the most popular rides in the Magic Kingdom, be sure to arrive early, especially when the weather is warmer. FastPasses are strongly recommended.
Veronica has planned her family vacations for years. Now she gets to do it for others, and it's like a dream come true. She creates lasting memories to the destination of your choice by planning customized vacations. She focuses on family and family reunion travel to Walt Disney World, Universal Studios, Disney Cruise Line and Sandals & Beaches Resorts. As well as the Southern United States; like Nashville, Chattanooga, Memphis, Savannah and Atlanta. She'll help you find the BEST accommodations with the BEST value, and she will fill in all the blanks… all at no cost to you! She can't wait to pass that magic on to your family. If you are ready to save on your next vacation, contact Veronica!! Veronica@DestinationsInFlorida.com