Thousands of tourists flock to Universal Orlando Resort each year. One of the lesser known areas of Universal Orlando Resort is CityWalk. CityWalk is the area outside the gates of Universal Studios Florida and Islands of Adventure known for great food, shopping, and entertainment.
Dining Favorites
The dining at Citywalk Orlando is some of the best in the city. While there are many choices such as, Emeril's, Jimmy Buffet's Margaritaville, Hard Rock Café and Vivo Italian Kitchen, there are three restaurants that are at the top of my list.
First, I love Cowfish. Not just like……LOVE. I love sushi, and my husband does not so this place is perfect. It's a casual restaurant with an upscale feel that serves the best sushi and the best burgers. Also, you cannot leave without trying one of their milkshakes.
My second favorite place is Antojitos Authentic Mexican restaurant. This restaurant has the Mexican feel with authentic food. Order the guacamole as an appetizer, it is to die for.
Finally, I love NBC Sports Grill and Brew. During basketball season (as a Kentucky fan) this is one of my favorite places to watch the games. Of course, it is also a very popular place for all sports and sporting events with flat screen TV's and a diverse menu. It will have something for everyone.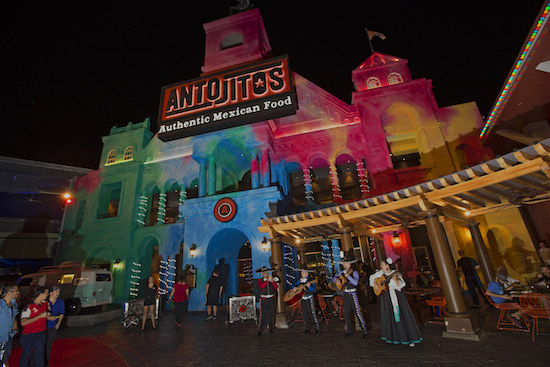 Attraction Favorites
There are several different entertainment choices at CityWalk.
The first is the AMC Cineplex 20 and IMAX. Playing all the new release movies, it is your typical upscale movie theater so you can take in a movie after dinner. If a movie is not your kind of show, you can go and see the Blue Man Group. These guys perform every night (sometimes multiple times) with their loud music and entertaining performances. It is a "must see" when in Orlando for a visit.
You can challenge your family to a game of miniature golf at Hollywood Drive Inn Miniature Golf Course. This course has two 18 whole courses themed for scary movies and sci-fi movies. Don't worry, though, it is completely family friendly for small children.
If you are looking to have fun with your significant other, there are three great choices at CityWalk. You can go to Pat O' Briens where the dueling pianos will entertain you with their music or if you are more into singing yourself, go to Rising Star. Rising Star is a karaoke bar where you will have backup singers. It really is the best karaoke option if you love to sing.
Finally, if you just want to party or meet new people, check out The Groove, which is a dance club that plays all of the latest music.
There is something for everyone at CityWalk. Don't miss out on the great food, entertainment, and nightlife the next time you are vacationing in Florida.
Kristi Gregory lives in Orlando with her husband and two boys.  Who better to plan a trip to Universal than a local who visits Universal multiple times a week?  Her clients enjoy insider tips, personalized itinerary planning, and attention to every detail of your trip.  Call Kristi at (859) 229-4840  or email to start planning your next vacation.