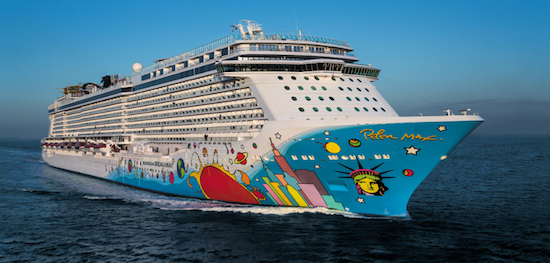 If you are new to cruising or an avid cruiser, you will love the Norwegian Breakaway.  Sailing to the Bahamas, Florida and the Caribbean out of New York City.
I had the pleasure of setting sail on the Breakaway twice. Norwegians motto of Freestyle Cruising keeps the flexibility in your hands. No need to worry about Routines or Schedules.  Unless you would like to make a reservation at one of the Specialty Restaurants.  I loved Teppanyaki so much I took advantage of dining there on more than one occasion.  Also, the French Bistro was on the top of my favorites list too.
Are you a single traveler, well this is the ship for you.  They offer Studio Cabins with access to the Studio Lounge.  They even schedule singles meet and greets in the lounge throughout your sailing.  So you can make new friends.
How about a leisurely stroll on the Outside Waterfront unique to the Breakaway and Getaway..  Where you can check out shops, dining & nightlife.  My favorite was Maltings Beer & Whisky Bar. You can enjoy a cocktail indoors, and they walk outside and still be at the same bar, just with outdoor seating and an outside bar.  Or La Cucina was another fun option on the Waterfront.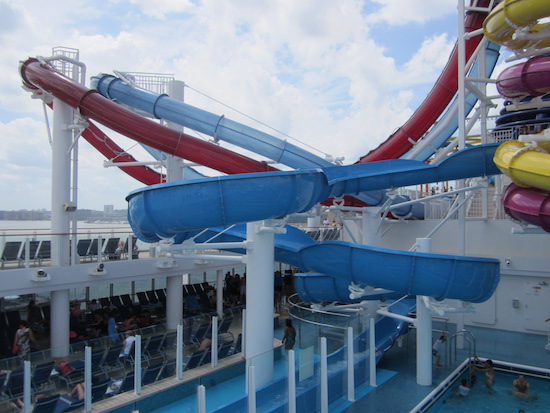 Aqua Park & Sports Complex, here is where you will find the largest ropes course at sea and take your chance at walking the plank that reaches out a full 8 feet from the ship. I took advantage of walking the plank what a great memory.  Great pool slides and much more.  There is something for everyone in the entire family to enjoy.
So make sure to get on board this ship as soon as you can and experience all it has to offer. She is a beauty not to be missed.
Written by Dawn Caitano – Dawn specializes in multi-generational travel as well as honeymoons and proposals at Walt Disney World.  She is also an avid cruiser, having set sail on all the major cruise lines. Dawn's experience and expertise, along with a sprinkle of her pixie dust, will make your vacation one to remember! Book your next vacation with Dawn at 917-494-5771 or dawn@destinationsinflorida.com.