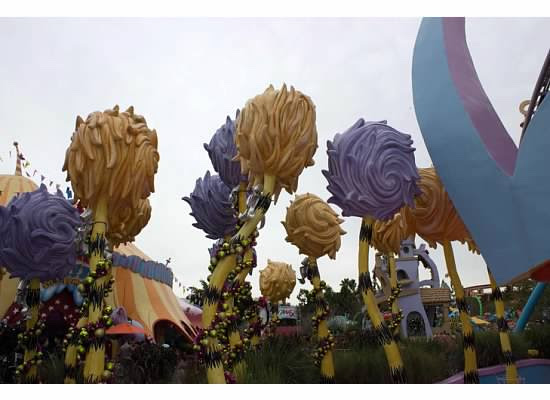 Who says the Grinch Stole Christmas?! He certainly didn't steal it from Universal Studios Orlando
I was just there last December for Christmas with my family, and the Seuss Grinchmas area was hands down one of our favorite parts of the park for the holidays. There were bright wreaths everywhere, Christmas music playing, and a sense of the holiday spirit throughout.
Several places for great photo ops for the family—a favorite is with the Grinch himself, or next to a massive 60ft Christmas tree. Stop inside one of the many unique Seuss stories to listen to a Christmas story being read, get your holiday shopping done, and don't forget to stop in the Snookers & Snookers Sweet Candy store for lots of sugary yummies!
Be sure to stop and listen to the Who-ville singers as they carol their way through Seuss Landing and take a spin on the festive Caro-Seuss-el, hop aboard The High in the Sky Seuss Trolley Train ride or go for a wild ride on the One Fish, Two Fish, Red Fish, Blue fish attraction
So much to see and do in Seuss Landing during Grinchmas—so don't be a Grinch and check it out this year!
Regina Cwiklinski Travel Agent with Destinations to Explore
I love to travel with my husband and two young kids to Disney, Universal, and tropical destinations. I also love to help other families plan their dream vacation. Happy Travels!
regina@destinationsinflorida.com 262-707-7909