"Frozen"-themed Gingerbread Display and Shop Now Open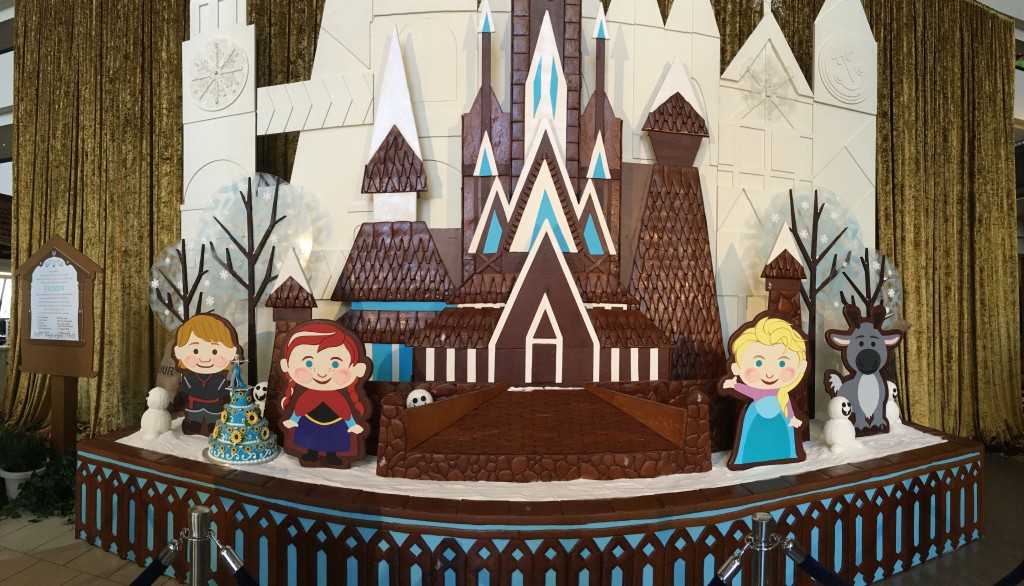 A Gingerbread ice castle themed after Disney's "Frozen" is now open for guest viewing at Disney's Contemporary Resort. It is adorned with sugar snowflakes, gingerbread shingles and chocolate-coated trees, and Anna, Elsa, Olaf, Kristoff and Sven are decorated with sugar, chocolate and candy. In all, 423 pounds of chocolate and 311 pounds of honey went into the creation. While you can't eat the house, there's a special blue raspberry cake "Frozen" gelato, plus gingerbread and sugar cookies, snowflake ornaments, linzer and the popular chocolate-peppermint cookies all available for purchase. Or you can take home a build-your-own Olaf snowman kit! There's even a gluten free Gingerbread Boy from Erin McKenna's Bakery!
Olaf is enjoying some summer fun with a huge sugar sandcastle, and there's even a cake inspired by Frozen Fever! Plus, Elsa's snowgies are popping up throughout the sweet scene!
And don't forget to search for the 15 hidden Olafs! How many can you see in this video of the gingerbread display?
This display is located on the 4th floor at Disney's Contemporary Resort. Disney's Contemporary is just one of the Walt Disney World Resort hotels to display an artistic and delicious creation. Disney's BoardWalk Inn, Disney's Beach Club Resort and Disney's Grand Floridian Resort and Spa also have magnificent creations for all guests to admire. They all offer gingerbread and other treats for sale too.
Have you ever purchased a gingerbread treat from these Disney displays? How was it?