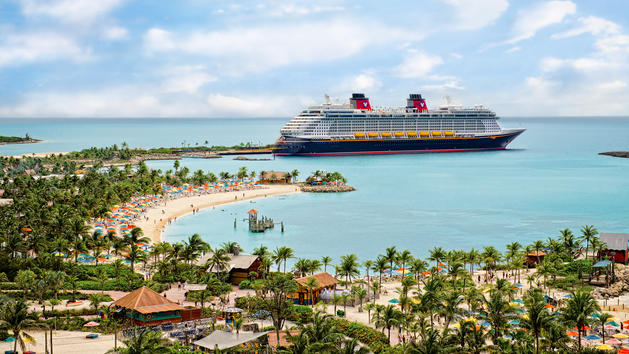 Agent Review of Castaway Cay Island
Our agent, Regina Cwiklinski, shares her experience of Castaway Cay Island.  This is just one of the stops during a Disney Cruise Bahamas and Caribbean Cruise. 
I did my first Disney cruise on March 2014.  I had heard so much about Castaway Cay and how amazing it was and I thought, "it's a little island, how much can there be to do?"
Wow! I stepped of the Disney Magic Cruise Ship and onto Castaway Cay and instantly understood all the hype!  You are greeted by these guys who instantly set the mood for your day—fun and laughter!
The beach was amazing—a fun family section with a water slide, tubes, snorkeling gear and all the adventure.  There is even an adult's only section when you just want some peace and quiet.  Other fun activities include biking around the island, Castaway Cay's 5k run/walk, and hiking. I took advantage of the hiking and fell in love with all the beautiful flowers and plants.
Your lunch is included as well—a delicious Caribbean feast with fish, ribs, burgers, fresh fruit, salads and dessert. There is a bar for kid beverages and adult beverages.
If you have not had a chance to try out Disney Cruise Line and take advantage of all the fun on Castaway Cay I highly recommend contacting your travel agent today to find out how you can experience this hidden gem for yourself. 
Written by Regina Cwiklinski Travel Planner for Destinations to Explore.